Posted By RichC on July 23, 2019
The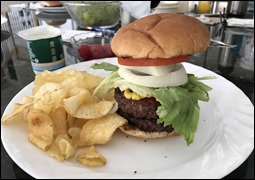 weather has been super hot and humid so far this July over most of the eastern half of the country. It is pool and grilling weather to be sure … although when the pool

water temperature is 90 degrees, it really doesn't feel all that refreshing anymore.
Since I was clearing off the porches and putting the furniture in the garage for our upcoming projects, I decided to moor our old dinghy Trinka in the pool (below).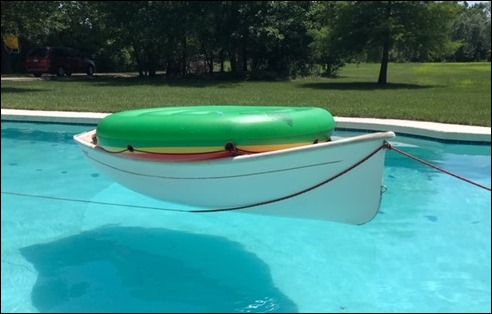 Thankfully this week we are in for a change – at least a break from the near 100 degree days; we're even getting rain, just as the gutters were taken off the house and new larger GutterShutters were halfway installed (no downspouts or even hole to drain the collected rain out yet). I've been trying to spray the vinyl soffits and brush, but perhaps a long wand powerwasher attachment would work better (if they make one)?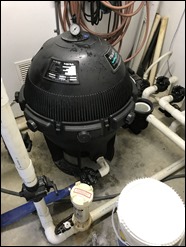 Hopefully the crew of two will get the new gutters finished up on Tuesday, so as to start with prepping and painting the exterior trim. All of these are big ladder oriented jobs. Usually I'd consider doing the painting work myself, but the older I get, the wiser I think is I think it is to hire someone – I am using Certapro for the painting.
Another photo for the archive is our pool pump that I spent half the weekend working on. It was only a cleaning this time, but having replaced the electric motor not all that long ago, I'm overly sensitive to the tell-tale chatter sounds – which I'm always thinking that I'm hearing. Nevertheless, clean filter media reduces backpressure so I hope that helps both the circulation and pump motor longevity?