Posted By RichC on February 13, 2020
Last week, a Jasper, Alberta family photo near a glacier for a ThrowBack Thursday #TBT post, had me sharing a few of my thoughts on climate change. I should have included another photo that had a few more from our family (especially since my sister-in-law, Lynda,  just returned home from the Cleveland Clinic). The trip was actually a 40th anniversary present to MomH and DadH (Brenda's parents) … but the adult kids volunteered to go along too. 😛 So for this week's TBT, I'll add that photo … and archive 50-minute long low-quality video pulled from a VHS tape before it is completely degraded.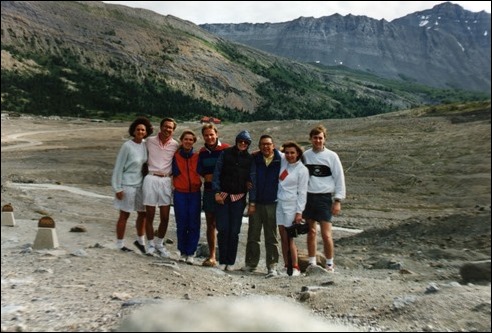 Lynda, Mark, Ann, Gary, MomH, DadH, Brenda & Rich near Athabasca Glacier
We flew in from Ohio and New York to Calgary, Alberta and headed west to the Canadian Rockies … I can still hear my late brother-in-law Mark singing "climb every mountain" and "the hills are alive, with the sound of music."
We had a good time hiking and celebrating in Baniff (just as Taylor, Jeff and I did in 2005) and stayed at the Fairmont Chateau Lake Louise – it was nice (personal video for the blog's digital archive below).