Posted By RichC on February 17, 2020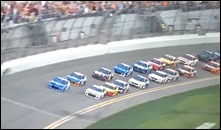 Although watching NASCAR is not the highest priority on our list of things to do, it has been a long time mid-February favorite whether we were home, at the boat or visiting Brenda's mom and dad years ago in Florida. This year we treated it as a Super Bowl kind of Sunday and were impressed with all the excitement leading up to the race, yet disappointed that there was both a rain delay AND eventual reschedule. I can't imagine being a fan who plans their vacation down in Florida for Speedweek, expecting to be back home on Monday … and then missing the actual Cup Series race?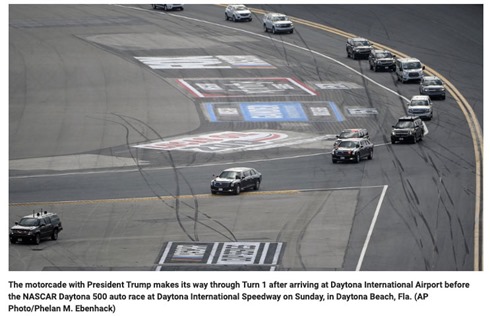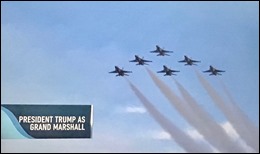 The highlight for most supporters of President Donald Trump at the race, was to seeing the president and first lady Melania not only attend to cheers and pride, but  to watch the presidential motorcade with "The Beast" (2 of them) paced the field of around the legendary racetrack. How cool was having our president, also the grand marshal, saying "Gentlemen, start your engines."
After lap 20 or 200 … the leaderboard stands like this: (today's  conclusion will be at 4PM .. we hope!)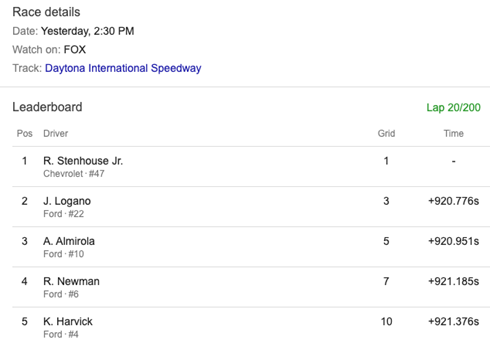 EDIT:
An update on the 2020 Daytona 500 after the rain delay and finishing on Monday afternoon and evening. The race was extremely close and filled with wrecks, especially the end. The last lap had full throttle pushing and blocking action which ending with Ryan Newman on his roof and heading to the hospital. The win (second straight and third overall) for Denny Hamlin was a bit subdued after he realized Newman's car flipped in the air and was struck at 200mph by another car. Thankfully as of this post, Ryan Newman is speaking in the hospital with non-life-threatening injuries, but still in serious condition. It is a reminder that even with all the advancements in safety over the last couple of decades, racing at 200 mph is still a very dangerous sport.
EDIT 2/19/2020: Miraculous! Ryan Newman and his kids.