Posted By RichC on April 19, 2020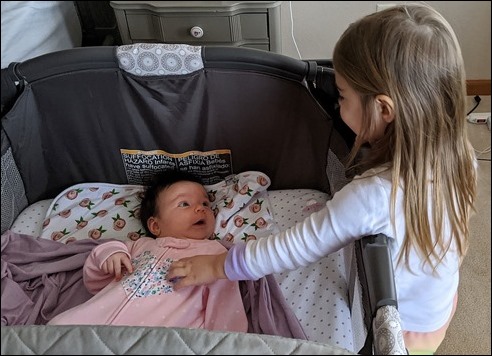 Although it has only been a couple months since Ellerie was born (8 weeks now), the Coronavirus stay-at-home orders has definitely made it challenging for grandparents … especially when they would really like to be with their grandchildren. Brenda and I only 'now' realize just how fortunate we were to have been able to travel several times to  Wayzata, MN after Annalyn was born, considering at the time Katelyn and Drew lived 11 hours away. I have to admit, we did enjoy every trip to Minnesota whether by plane or car.
Hopefully America will soon be safely back opened up … for work and pleasure … and that a few hours by car to visit our granddaughters will be no-big-deal again. For now, we are so appreciative of having video chats with our family, Annalyn's Alexa Echo messages to (below) and Katelyn's regular stream of baby photos.
Here was an archived message from our Amazon Echo on February 28, 2019:
| | |
| --- | --- |
| | Annalyn and Katelyn with an Alexa message (mp3) | 2/28/2019 |
BTW … April is half over and yet we are still getting snow! I made the joking comment to Katelyn after sending this wintery photo that perhaps with COVID19 and less fossil fueled vehicles on the road that we are no longer experiencing global warming (who knows, the hazy skies over major cities have cleared).