Posted By RichC on July 20, 2020
Glen Campbell was one of the few entertainers in my lifetime that has made a huge impact on peers and is deserving of the accolades for making the most of his talent. I stumbled on a Jimmy Webb (songwriter/composer) Wichita Lineman link <—worth a listen – this past week that reminded me of many late Glen Campbell songs and previous blog references.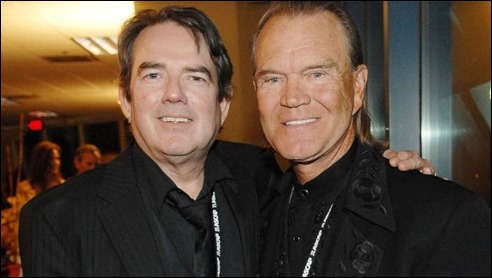 His music goes back nearly as far as I can remember since it was also appreciated by my mother too. Not all that much music can satisfy the ears of parents and their kids but as mention before, Glen Campbell was one of two that can recall.
So for this Music Monday, here's the YouTube link to a 2002 live performance of Galveston with complements from a few who respect his talent (audio below if the Youtube link disappears, as they often do). Respect for his talent was not just relegated to "life after fame," but by the many groups and musicians that included him well before his own solo success. For example, he recorded with Elvis Presley and had a bit more of a personal connection, evident by his comment, "Elvis and I were brought up the same humble way – picking cotton and looking at the south end of a north-bound mule."
| | |
| --- | --- |
| | Glen Campbell – Steve Wariner – Galveston LIVE | 2002 |
Here's another one of the MANY live performances sitting around with others where the respect of other musicians was evident. This is Glenn singing and playing Gentle On My Mind .. with a little extra guitar riff.
| | |
| --- | --- |
| | Glen Campbell with friends – Gentle On My Mind LIVE |