Posted By RichC on July 27, 2020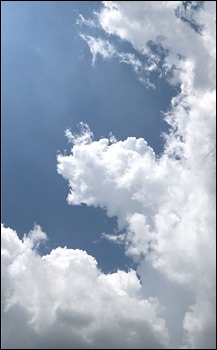 Once again, I can't help but to revisit some music of my youth … although it helps when regularly reminded by listening to the  SiriusXM station The Bridge which plays regularly from the patio Echo connected patio speakers.

The top ten hit Time Passages recorded by Al Stewart in 1978 played while I was sitting cooling off in the shade of the porch the other day and so I snapped the screenshot thinking this would be a great addition for Music Monday. If not for dealing with the resurgence of Coronavirus, the summer has been great. The weather has been beautiful and the hot days with big puffy white clouds floating in baby blue blue skies followed by pleasant evenings has made for very nice backyard times.
| | |
| --- | --- |
| | Time Passages – Al Stewart | 1978 |
Without the normal dating and eating out options, Taylor and Megan have made coming over to swim and grill on the weekends a regular thing. We have enjoyed their company even with the occasional ugly politics discussions.  Taylor has never been shy to talk about and discuss issues and this years continues to "hate" President Trump (I would have used the word "dislike," but the appropriate word is definitely "hate"). It is likely he will continue to be a Never-Trumper and no-amount of logic in highlighting the direction of the other party seems likely to change his animus. He'll once again probably cast a protest vote in November, even if he is not enthralled with the direction of the Democratic party. That aside, I'm sure that I'm not the only parent wondering, "where did we go wrong," … even though I understand the distaste for Donald Trump the person or his style as a politician. 
There is still a glimmer of hope for Taylor though, as I know he also treasures freedom, loves our country and deeply appreciates the blood took to gain our independence and blood it continues to take to keep it.  If he votes against President Trump, I doubt that mean he is voting "FOR" the radical socialist movement that is currently be steering Vice-President Joe Biden and the Democratic Party.
Hm, sorry about ruining a pleasant MusicMonday post and song with politics .. but had to get that off my chest.