Posted By RichC on July 22, 2020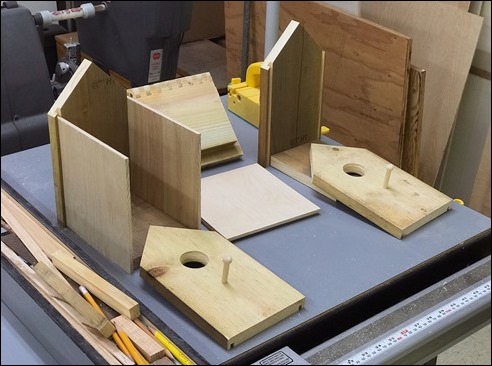 After making a Woodworking box-joint finger jig to use on the table saw earlier this month for a grandfather/granddaughter project, I worked at cutting the pieces of wood to make it more like a kit last weekend.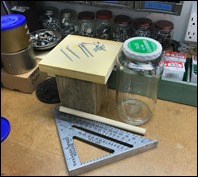 This is all in anticipation of Annalyn's summer visit in which she requested we make something for mommy int the workshop"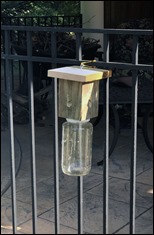 (we made a car for daddy during her Christmas stay). There is no doubt in my mind that she loves her mommy "probably more than life itself" … and I think everybody in the family knows it.
So in preparation, we have secretly been talking about a couple of workshop projects for her summer visit:
1) a Carpenter Bee Trap (my prototype left) and
2) a Bluebird Birdhouse.
Since Annalyn is usually sensitive to loud noises, I have decided to do all the "noisy machine work" like cutting, joinery, machine sanding, etc …  before she gets here and so we'll basically will have handwork and some drilling, nailing, assembly … along with decorating and painting when she is here. The bee trap was actually something Katelyn requested, so that will be first on our agenda … but the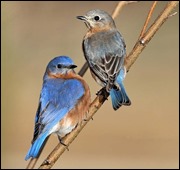 Bluebird House will give me a chance to teach Annalyn a little bit about songbirds and why we make birdhouses in different sizes (can you tell that I've done printing and website work for the Audubon Society for over 35 years?). Hopefully she will have the patience for this?
As for the design … it is my own. I've opted to use some very rough scrap pine and use the finger joint for the roof peak … which after painting will get covered up with some 6061 aluminum leftover from my airplane project. the sides will be 1/4" draw bottom leftover and slide from the bottom up to under the roof overhang with a little gap for ventilation. Each season, the sides can be slide down and old nesting material removed before the next "tenant" moves in. The floor will be pre-drilled for a couple lag bolts that can fasten it to the top of a 4 x 4 post .. or perhaps their fence post (although a bit too low for bluebirds).
For a little bit of a personal touch, I'm planning to have her color a Bluebird picture so we can "wallpaper it on the inside of the birdhouse."
😊