Posted By RichC on July 10, 2020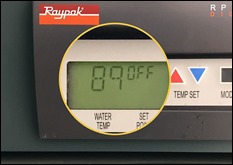 It has definitely been sunny and warm this past week or so, but this kind of pool temperature is ridiculous! Whew, 89 degrees!
I've been trying to keep up with brushing half the pool each evening in hope to stay ahead of any wall growth. Chemical balances look decent so far, but after my trip to Florida last month it has been a challenge to catch back up.
Speaking of "trips," Katelyn, Drew, Annalyn and Ellerie headed back north and stretch out their weekend. It is nice for them to have a summer escape in Michigan (Drew's parents) where the evenings are cool … and they can stay "safe from the resurging Coronavirus." Of course we have it pretty good here too .. so we are staying close to home and reducing our trips out (but really this is just an excuse to archive a couple family photos 😉 – thanks for sending Drew!)
EDIT: Forgot to add my "clouds" photo from today … incredibly beautiful!