Posted By RichC on August 28, 2020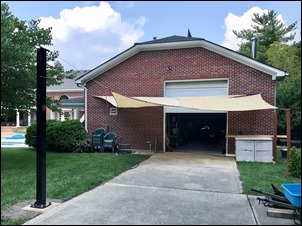 I know … if you check-in on my blog regularly, you are tired of hearing about this shade sail awning project. But after the thunderstorms, wind and heavy rain this week I had to 'trim the sails' so to speak. So until the next time a storm comes through (likely the leftovers of Hurricane Laura on Friday or Saturday), this will be the last look for the summer of 2020 … unless I go back on my word.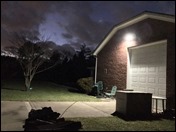 As for actually using the shade, I haven't really had a chance to work for any length of time, but Taylor was over after work this week to complete a couple small woodworking wedding gifts. After we butchered the wood in the basement, I suggested he do the heavy sanding outside under the shade sail. It was perfect and the night security light even enabled him to work well past dark (photo right from 2018).
In order to keep up with archiving photos my granddaughters as they grow up, here's a great one of the Oostra sisters "playing fort" – a photo from Katelyn (I haven't said it enough .. but she is a terrific mom!)  I think Annalyn and Ellerie are going to enjoy playing together for the next few years (this photo is also my current iPad wallpaper).