Posted By RichC on August 10, 2020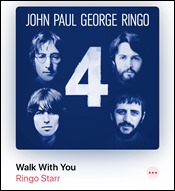 The song Walk With You is being included today to highlight Ringo Starr, but who can really separate him (or Paul McCartney for that matter) from The Beatles?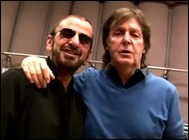 Walk With You is a collaboration song released as a single from Ringo Starr's 2010 studio album. According to Songfacts, it was also used as Starr's entry on the iTunes exclusive 4-track Beatles EP 4: John Paul George Ringo and hearing it on SiriusXM "The Bridge" (phone screenshot right), it  triggered me to included it for today's Music Monday.
In a promotional video, Starr said that "Walk with You" was originally intended to be a "gospelly" song. Starr called Van Dyke Parks and asked him to collaborate on writing a "God song," but Parks said he did not write about God. They reworked the melody and completed the track as a song about the power of friendship. During the recording of "Peace Dream," Starr played Paul McCartney several tracks he had completed for Y Not. McCartney developed the "trailing" duet in the melody of "Walk with You." – LINK
| | |
| --- | --- |
| |   Walk With You – Ringo Starr with Paul McCartney | 2009 |
Walk With You

No man's an island who has been in love
Bringing understanding every push and shove
Just as fundamental as the stars above
It is benefiting every hand in glove
And you tell me it's a cold day in hell when you surrender
For love and a chance to remember
What we have to hold is more silver and gold

When I walk with you
When I talk with you
Everything will be fine
When I walk with you
When I talk with you
Everything will be fine
Will be fine

It's coincidental we have met before
Let this be the time and place that we explore
With no hesitation knocking at that door
Open up your heart and love forever more
And I tell you it's a cold day in hell but we remember
That song that starts out love me tender
And that king of hearts

When I walk with you
When I talk with you…