Posted By RichC on September 6, 2020
I was planning to hold off posting the progress from last weekend and a few evenings putting together a swing set  for Annalyn … and eventually Ellerie who is now 6 months old (the playset is sized for 3-10 year olds). I had thought Drew and Katelyn might be coming down over Labor Day, but they were recently here and with pre-school starting, I can understand needing a weekend of R & R. Besides I'm planning to be up to their house babysitting this week anyway (alos, the goofy photo above was to show Annalyn the grass seed she planted is growing).
The progress in coming as I only really have the two-person job of putting together the slide and a small bench … and some dirt fill, grass seed and mulch. So far so good, but it is still not an "older kids" treehouse (future plan).
if you've ever assembled a cedar swing set with fort and slide, you know it is not to be taken lightly.I've got a good 3 days  (on and off) into it between sorting parts and organizing things, cluing split boards, building sub assemblies, re-reading instructions, hole drilling and finally bolting things together. I looked at the plans and thought … "how hard can this be .. it will be a piece of cake." Well .. it wasn't exactly hard, but it did require far more time than I thought. I'm happy with the results and just finished screwing in a couple anchors to keep everything level and in place.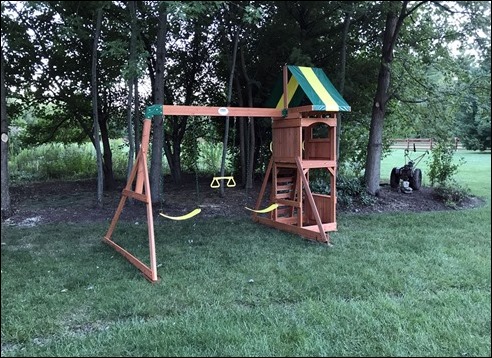 EDIT 9/6/2020: Beside finishing the painting in the pool house changing room, peeling back the tape and repainting the doors, I also finished the slide and put it on the swing set – anxious for Annalyn to try it out! 😉