Posted By RichC on October 27, 2020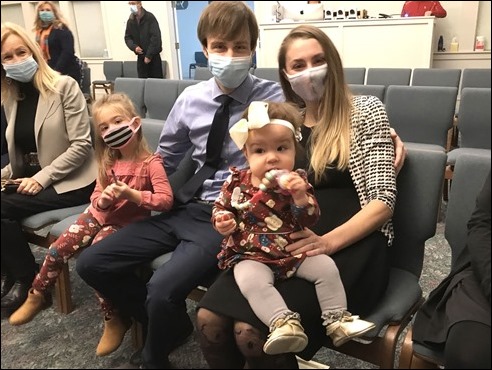 Although in the "time of COVID19" things are different when it comes to gatherings, going to church, keeping a distance and wearing masks, we did get together with the Oostra family for Ellerie's baby dedication. It seems like just yesterday we were together for Annalyn's, but now she is a big sister. She has such a great personality – and sure makes her Bompa smile.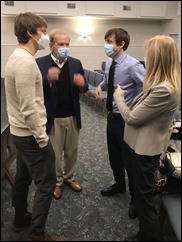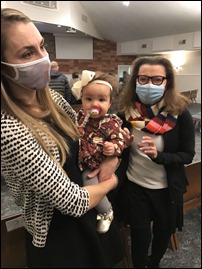 Ellerie is now 8-months plus and pays close attention to her big sister. She is at the age of wanting to be either with her mom or dad almost all the time, but can be entertained for a few minutes without a tear. "This too shall pass." 
We remained in our spaced-apart rows for much of the service and even Katelyn, Drew, Annalyn and Ellerie didn't go forward as usual, but stood at their seat while a photo of the family was projected on the screen (photo below) and for the live-video broadcast of the Waterville Community Church service (YouTube archived). They did have photos after the service where they removed their face mask for a few minutes.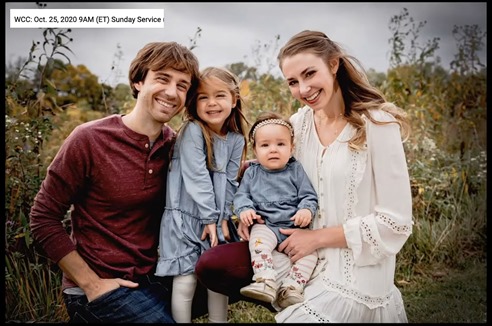 Thankfully all in our family and extended family are Coronavirus free at the moment, but currently there is a tick up in cases as we try to open the country back up.
Katelyn and Drew were great entertainers as usual. We ate well and enjoyed our weekend playing with our granddaughters. We were very impressed at how well Annalyn played "Go Fish" (photo below) and how attentive Ellerie sits up – she is sleeping and eating great too!
EDIT 10/27/2020: Of course want kind of grandparent would I be if I didn't archive and include the Waterville Community Church h photos Katelyn sent me? 😊