Posted By RichC on November 1, 2020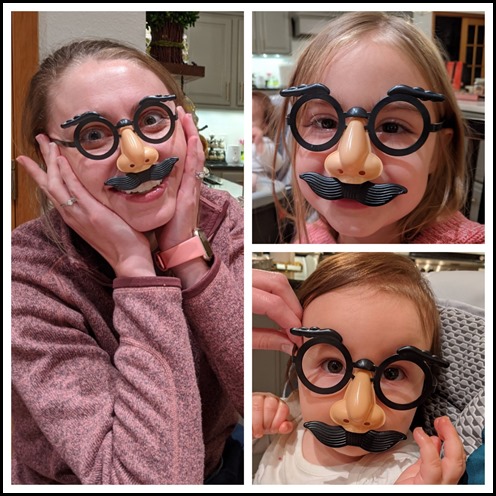 While pre-starting a Happy Halloween archive post for 2020 amidst a limited trick or treating year due to COVID19, I will at least start with a few photos Katelyn and Drew sent of their preparation. I'm sure Annalyn is excited to at least "beg" for a little candy (probably just close neighbors) but it is important for Ellerie to at least participate in her first Halloween with some kind of costume. I did enjoy the funny glasses, nose and mustache photos (collage above) … and quickly remembered the "Mustache Baby" book I read to Annalyn last weekend.
Here are a few of the carved pumpkins and impressive Jack-o-lanterns that each carved. Annalyn's of course was the best … but Drew was pretty creative with his Tesla logo and Katelyn's even better since it was a VW! (ha .. I'm biased!)
UPDATE 11/1/2020: Katelyn and Drew did not let me down and have shared a few photos of their Halloween Trick-or-Treat night with us. Of course, I'm adding to my blog and archiving (below the break)!