Posted By RichC on December 30, 2020
When it comes to being the first to read a book, I'm not the guy to turn to, but eventually I do get around to some of them. I'm particularly fond of the history oriented books from the last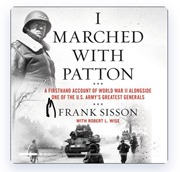 century and "I Marched With Patton" by Frank Sisson fits that criteria. 
This World War II story starts with the downtrodden setting for the economy and the hardships of the Great Depression. Frank had to become the breadwinner for his family at a young age after the death of his father and knew he would soon be called to war when he turned 18. From a small Oklahoma town, his honesty in acknowledging his worldly knowledge was limited as he relates this to readers in situations such as meeting a US Jewish soldier from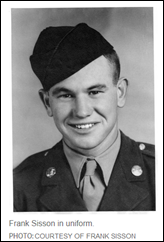 Philadelphia who explained the oppression of Jews by the Nazis … as well as other times in history. The naïveté of Frank likely wasn't unique for the time when a lot of US soldiers came from smaller isolated town with schools barely able to teach the basics of reading, writing and arithmetic.
I'm listening to the audio version and find the narration by Robert L. Wise excellent. He helps bring the story to life just as a good actor does in a movie. I'm about half finished but early in the story, Frank's connection to General George Patton was while directing traffic in France and saluting Patton's Jeep as he passed by – "He looked me in the eye as if to approve of the way I was directing traffic."
If you enjoy military history and World War II accounts, then you'll enjoy "I Marched With Patton." A worthwhile read.