Posted By RichC on January 11, 2021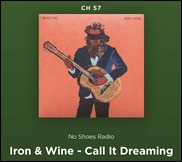 Every year, in trying to get out of my 1970's Music Monday rut, I say that I'm going to try something new.  So to keep January 2021 going with that same resolution for Music Monday, I'm listening to Iron & Wine thanks to No Shoes Radio on SiriusXM.
This weekend I've been listening to Sam Beam's 2017 Beast Epic album and am including cut #6 which is a song "Call It Dreaming."  Besides including the audio mp3, here's a great live YouTube performance on KEXP from 2018 that I really enjoyed too (embed below break).

| | |
| --- | --- |
| | Iron & Wine – Call It Dreaming | 2017 |
"I recognized that a lot in my writing I'm trying to show both sides of the coin — the sour and sweet. Iron & Wine seemed to fit with that duality and I thought it would be more interesting to call the project that rather than use Sam Beam." (link)
Skipped ahead in the interview portion to the performance …