Posted By RichC on March 22, 2021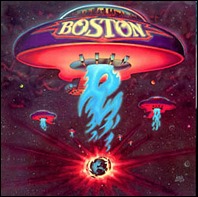 For this week's Music Monday, mentioning the band Boston and their debut album of the same name triggers memories. Fond thoughts aside, the title song "More Than a Feeling," is long overdue music for MyDesultoryBlog. It is definitely on the top-ten list for both Brenda and me and triggers memories of our youth … particularly our high school and college years.
I can almost remember when I first heard it. I think I was driving with photographer friend Chris Carr after school back in 1976. He had an 8-Track tape, but the entire album was so good that even cheapskate Rich bought it on vinyl (as did Brenda years before we met). Unfortunately the basement flooding in 2013 had me throwing them out after "trying" to dry them out. Of course I quickly dubbed the record album to cassette tape and "sleeved" the pristine album to prevent any scratches, dust, etc. The cassette tapes were much handier and compact anyway and could be played on a variety of audio devices, be they in the add-on car devices, cassette decks (my cassette deck from the early 1980s below) connected to the home stereo or portable tape players (this was the 1979 introduced Sony Walkman or mid-1980's boomboxes).
When it came to rock and roll music in the 1970s, Boston was at the top of my our list!
| | |
| --- | --- |
| |   Boston – "More Than a Feeling" | released August 1976 |
"More Than a Feeling" Youtube music video below: