Posted By RichC on March 19, 2021
Although I'm not in the market for a new iPad just yet, I am (or was) a multiple hours a day user back when traveling a bit more and interested in what a Thunderbolt and M1 chipped iPad Pro might offer. At least that's the rumor for the April 2021 launch … but who knows if it will be worth the premium price?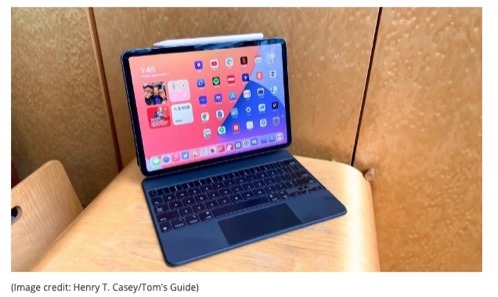 The Apple Silicon M1 chip is the most interesting improvement for me as it should offer speed and processing power rivaling the MacBook Air M1, but still be in the handy tablet format and running iPad OS (???) … at least until the computer and mobile operating systems come together. According to several reports I've been reading, the addition of a Thunderbolt port will give the iPad Pro access to peripherals such as external monitors and hard drives … something we have all wanted for a long time. Of course most of my tablet file sizes are smallish nowadays and with faster wireless speeds and cloud services … this wired connection may not prove all that necessary?
Again, I'm happy with my current iPad and Brydge keyboard setup, but as my aging Lenovo Yoga 710 notebook computer isn't used as much, having a single travel device "again" would be appealing … but suspect a new iPhone to replace my 7 plus might be a priority?