Posted By RichC on November 19, 2016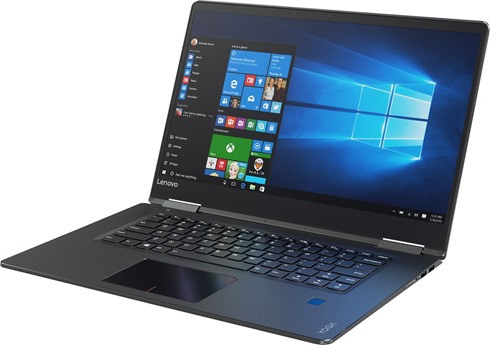 I just couldn't pass up burning my $280 Best Buy credit on a new mid-level Windows  10 Lenovo Yoga notebook computer. It is going to take some time tweaking it before I'm comfortable with it, but I decided that a new MacBook Pro was not in the cards for me (too expensive and missing so many features). Besides, I've been super comfortable using my iPad for sales and traveling … and have the iMac at my desk for heavier work. Unfortunately there are a lot of things that an iPad will not do efficiently and I just can't bear the old 7 pound 2007 Gateway laptop any longer.
The deciding factor for this 15.6″ Yoga 710 was being able to convince Best Buy to correct a previous shipping mistake and match an upcoming "Black Friday" $699 price (actually slightly different Lenovo). I also had to use my returned Asus credit before year end. This model is a larger screened, thin but not super-light, touchscreen 2-in-1 notebook/tablet in black, with backlit keys (I like). It has the business oriented fingerprint security reader for easy and secure access and Bluetooth 4.0 so I can still use a wireless mouse and headset. Since I didn't want to duplicate the iPad, I felt a full 15.6" touch screen model would work great as when the small tablet screen sizes won't do. I do have software to install and tweaks before it is ready to travel with me, but spec wise, it is about perfect. We always want more memory and SSD space — 8GB and 256GB will work though. Two annoying issues so far: the lousy trackpad and tiny shift key at my right pinky-finger — a big deal! (who knew, keyboard issues again!)

Windows 10 operating system

Windows 10 brings back the Start Menu from Windows 7 and introduces new features, like the Edge Web browser that lets you markup Web pages on your screen.

 

15.6" Full HD 10-point multitouch screen for hands-on control

The 1920 x 1080 resolution boasts impressive color and clarity. Touch, tap, glide and make the most of Windows 10. IPS technology. LED backlight.

 

7th Gen Intel® Core™ i5-7200U mobile processor

Ultra-low-voltage platform. Dual-core processing performance.

 

8GB system memory for advanced multitasking

Substantial high-bandwidth RAM to smoothly run your games and photo- and video-editing applications, as well as multiple programs and browser tabs all at once.

 

256GB solid state drive (SSD)

While offering less storage space than a hard drive, a flash-based SSD has no moving parts, resulting in faster start-up times and data access, no noise, and reduced heat production and power draw on the battery.

 

360° flip-and-fold design

Offers four versatile modes — laptop, tablet, tent and stand. Lenovo Transition automatically switches specific applications to full screen when changing from PC to tablet, tent or stand position.

 

NVIDIA GeForce 940MX graphics

Driven by 2GB DDR3L dedicated video memory to quickly render high-quality images for videos and games.

 

Weighs 4.19 lbs. and measures 0.7" thin

Ultraportable design, featuring a smaller screen size and omitting the DVD/CD drive to achieve the compact form factor. 4-cell lithium-polymer battery.

 

Bluetooth interface syncs with compatible devices

Wirelessly transfer photos, music and other media between the laptop and your Bluetooth-enabled cell phone or MP3 player, or connect Bluetooth wireless accessories.

 

2 USB 3.0 ports maximize the latest high-speed devices

USB 3.0 ports is backward-compatible with USB 2.0 devices (at 2.0 speeds).

 

Micro HDMI output on the display expands your viewing options

Connect the laptop or tablet to an HDTV or high-def monitor to set up two screens side by side or just see more of the big picture.

 

Built-in media reader for simple photo transfer

Supports SD, MultiMediaCard, SDHC and SDXC memory card formats.

 

Dual-band wireless network connectivity

Built-in high-speed wireless LAN built into the screen, so it connects to your network or hotspots on all current Wi-Fi standards in both laptop and tablet modes.

 

Built-in HD webcam with two microphones

Makes it easy to video chat with family and friends or teleconference with colleagues over Skype or other popular applications.

 

Backlit keyboard

Allows you to enjoy comfortable and accurate typing, even in dim lighting.

 

Additional port

Headphone/microphone combo jack.