Posted By RichC on April 3, 2021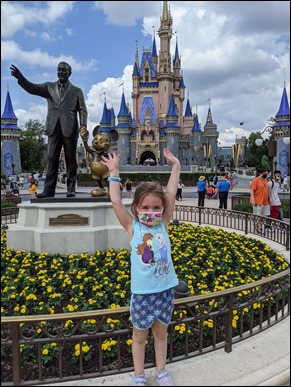 There's not much of a question whether Annalyn and Ellerie had a good time this past week. The girls … and their mom and dad … are vacationing in sunny and warm Disney World in Orlando before heading further southwest to spend a few days with Drew's parents at the beach. Of course I'm envious, but having made the trek to Florida a few time when our kids were little (and big) we've seen our share of Mickey Mouse moments. Still, we do enjoy, as well as "enjoyed," our vacations with family and want them to do the same as much as they can.
We are so fortunate to be living in a time when they can immediately send a text message, call us or send photos. That would have been something my mom and dad would have enjoyed too, but back then we had to wait for the film to be processed and photos printed. Ah, the glass is definitely half … or should I say completely full!
And here are a couple late arrivals from "Team Oostra" (beach family photo). One which Katelyn included because she laughed at Drew's "in-between smiles" face. I'm not sure Ellerie is in the mood for more photos?