Posted By RichC on May 28, 2021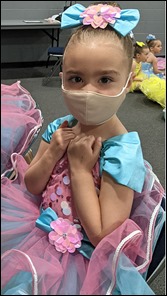 Our family has been burning up the highway this past month, but it has been great to get together again with our granddaughters and of course Katelyn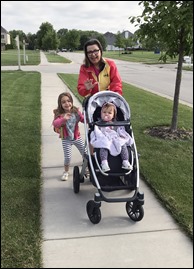 and Drew. We've had this dance recital planned for a while now, along with an extra day to help out with babysitting … and didn't want to ruin Drew's surprise birthday party for Katelyn either … so didn't mind the extra travel. Actually, it made me wonder how I made those weekly trips to Cleveland for so many years?
The dance recital was impressive in the size and ambition … it was huge. The dancers were all very impressive … even the youngest. Katelyn was able to get tickets for the grandparents and we were all able to coordinate to be there when it started (Brenda and I arrive early so we could "bother" Katelyn in getting her girls ready … we were suppose to help, but I'm not sure we were helpful?
Brenda and I spent the night and the next day "busy" day on walks, having a picnic in the gazebo (walked to it) and splashing around in the recently opened but cold pool.
Annalyn is definitely ready for the water this year, but will require a little more supervision – I can tell!