Posted By RichC on November 22, 2021
Katelyn, Drew, Megan and Taylor (and a few more Oostras!) enjoyed last Saturday afternoon in Columbus watching Ohio State demolish the "then" #7-ranked Michigan State Spartans. It was shocking to see how dominate the Buckeyes were as they scored practically every time they took possession of the football, but then again it was at the Shoe with an intimidating hometown crowd!
After the game, Katelyn and Drew stayed for "the music" my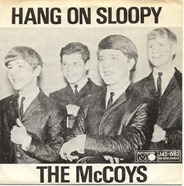 daughter text me … after which I asked, "Sloopy?" Of course it was played … what other song could it have been!
That triggered a Music Monday thought as I remembered the Ohio State Marching Band … and for that matter, practically every Ohio high school band … playing a rendition of Ohio's Rick Derringer and The McCoys 1964 hit "Hang on Sloopy" … and playing it all the time.  I can still visualize my tuba and sousaphone playing college roommate, Jerry Moody, emulating the scripting O-H-I-O "i" dotting.

| | |
| --- | --- |
| | The McCoys – "Hang on Sloopy" |
It also brought back memories from 70's of the mysterious Sloopy Girl dancing on the 1975 music video (before music videos were really a thing). Who "she" was made the video all that more intriguing. That mystery has recently been solved and documented — it is Lisa Leonard Dalton (September 2021 YouTube video Deconstructing a Myth: Sloopy Girl below).