Posted By RichC on June 7, 2022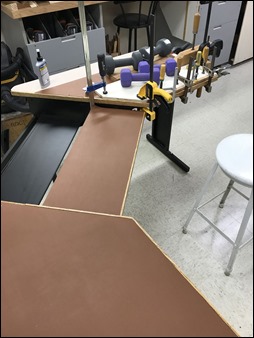 Brenda and I enjoyed our anniversary weekend staying around home, working in both the yard and for me painting on Sunday afternoon (Brenda helped out at a store short a pharmacist in Dayton).
Slowly I'm making progress in painting the guest bedroom (pano photo below). Ceiling are done, walls have their first and second coat of new color and trim paint is yet to be done. Hopefully I'll find the time and more importantly the ambition to keep plugging along … but I really prefer to be working outside, tinkering in the workshop or really anything but painting.
I did get a chance to cut out and glue the leather surface to the newly oak-banded corner desk project. Tedious to say the least, but it is turning out pretty nice. It won't be a piece of "fine furniture or anything, but it will definitely be a functional computer desk for my upgraded office.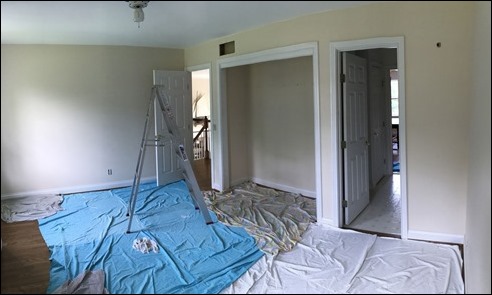 No warm sunny summer weekend would be without a dip in the pool and sitting on the back porch. I continued reading a little more from "The Old Man and The Boy" but was distracted by a new Kindle book by Bill Rivers: "Last Summer Boys: A Novel" … and a butterfly (video below). HA! It doesn't take much!