Posted By RichC on September 27, 2022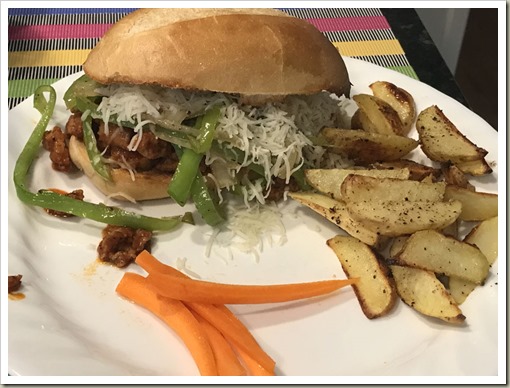 After fixing "Arthur Avenue Pork Sausage and Pepper Heroes with Melty Mozzarella Cheese and Garlic Potato Wedges" … as the recipe card states on Sunday night, which was the last of our subscription meal for a while … my son Taylor called at 8PM after getting himself "in a pickle" (a perfect place for a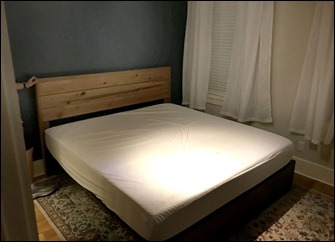 Shakespearian idiom … or perhaps not)?  It seems being split between moving into his condominium and still sleeping at his apartment, he decided to try to move his king size mattress all by himself. Shockingly he was able to move the mattress down the stairs from his apartment to the street and then up on to the top of his VW Alltrack. He commented … "I was proud of the way I slide the mattress on a moving blanket and strapped it on top of the car." I'm hoping he will send me a photo.
Anyway … that was the easy part. He then drove it from East Walnut Hill to his new place, a old remodeled building with any extraordinarily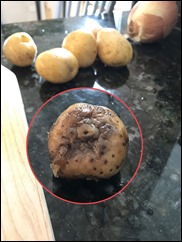 narrow hallway and 3-floor winding staircase to his condominium. I don't know how he did it, but he managed to get the mattress off the car, into the foyer and up a flight of stairs before jamming it and blocking the stairs part of the way up (I really should have taken a photo).
The "forced calm" call came as I was taking out the garbage semi-begging me to come down and give him a hand. So, like a good dad, I drove 40 minutes down to his place and we were able to wiggle and bend it up the staircase and put it together in his bedroom … which looks very comfortable. I'm still not sure how the sectional is going to make it up those stairs?
Oh .. I'm also including a photo of an unsavory potato in our HelloFresh.com meal bag … they really need to keep an eye on their quality as I've detected it is not what it was last year?
EDIT: Taylor sent his photos …
… and I'm included one whiled I was watching NASA's Dart project moments before impact with the asteroid in an attempt to see if it is possible to divert it.