Posted By RichC on November 21, 2022
Surprisingly Music Monday has only highlighted a little bit from The Beatles. Perhaps it was because they were for the most part "before my time" …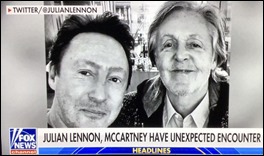 or maybe it's just not the kind of music that I'm attracted too? Nevertheless, the British group made a big splash in the 1960s and had an enormous influence on popular music from 1960-1970 … and beyond.
Nicknamed "the Fab Four," John Lennon, Paul McCartney, George Harrison and Ringo Starr took America by storm when they arrived from England in 1964 for their first visit to the U.S. and started the whole British Invasion thing as it pertains to rock and pop music. Beatlemania was already in full swing when they arrived, but their live performance on The Ed Sullivan Show viewed by 73 million cemented that it was "a mania." It was the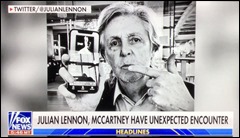 medicine the U.S. needed in recovering from the late 1963 assignation of President John F. Kennedy.
Who knows where to start when it comes to their music, but since a tweet (below) made its way on FoxNews as it relates to Paul McCartney and the late John Lennon's son Julian Lennon accidentally meeting up with each other in an airport, the 1968 song  "Hey Jude" (Julian) seems appropriate (video with weak audio below as well as a HQ remastered mp3).

| | |
| --- | --- |
| | The Beatles – "Hey Jude" | remastered 2015 |
It's Amazing who you run into in an airport Lounge! None other than Uncle Paul….
So, so lovely, and what are the chances…

Thankful…. ❤️ pic.twitter.com/OR2glVe7Gl

— Julian Lennon (@JulianLennon) November 12, 2022