Posted By RichC on July 21, 2006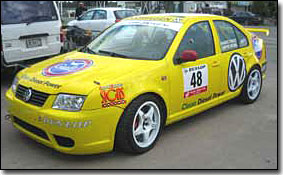 Correction: On September July 29th New Zealand's car owner and driver Maurice O'Reilly is going to attempt to show just what is possible with a diesel tuned for perfomance. He will attempt to break a speed record for a 1.9 liter turbocharged diesel in a 2001 Volkwagen Jetta TDI. The car is coupled to a 6 speed transmission and has successfully raced in Germany's 24 hour race in Nurburgring.
The VW factory tweaked TDI has a prototype engine and uses a high quality diesel fuel refined to European standards, but the real secrets is something diesel owners already know: Torque. Diesel torque is the key to keep a vehicle accelerating in high ratio gears and this combination of high torque and appropriate gearing should provide Mr. O'Reilly the chance to achieve some very high speeds. I'll try to report back after the September July run — stay tuned.
Maurice O'Reilly belongs to the Tauranga Mount Car club in New Zealand who is sponsoring the challenge. O'Reilly has ad a long career in motorsport driving most classes of vehicle including GP single seaters. He was the Bruce McLaren Champion in 1995 and now drives with international teams in 24 hour endurance events around the world.
*** Tauranga Club secretary corrected my post and informed me that the speed run is scheduled for July 29th or 30th depending on weather.