Posted By RichC on October 14, 2006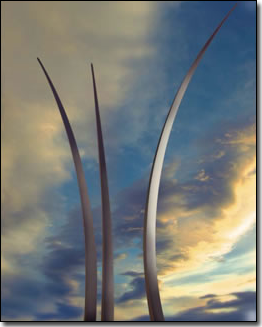 President Bush and Secretary of Defense Donald Rumsfeld were on hand today to dedicate the new United States Air Force Memorial in Washington DC. It honors past and present airmen who served in the youngest branch of military service, including the 54,000 Air Force men and women killed in action. A significant crowd gather today as old and new aircraft flew overhead, including a flyby of the USAF precision flying Thunderbirds.


Former Air Force captain and well known American journalist Bob Scheiffer lead the dedication ceremony taking place today. The design is not only a look back, but a look forward toward the future in is modern representation of the flying maneuver known as the bomb burst. It reflects those who served and are serving in using air power through the USAF to help defend our great nation. President Bush said the dedication marks the beginning of a year-long celebration of the Air Force's 60th anniversary. "It's fitting that, from this day forward, the men and women of the Air Force will have this memorial, a place here on the ground that recognizes their achievements and sacrifices in the skies above."
The memorial is set near Arlington National Cemetery and close to the spot where Orville Wright flew the world's first military airplane in 1909. The new memorial features three stainless steel spires that soar skywards. The highest spire reaches 83 meters and is visible from nearby Washington. Until now, the Air Force had been the only branch of the U.S. military that did not have a memorial in the Washington area.
I'll include an Air Force video clip available on YouTube talking about the memorial.