Posted By RichC on January 14, 2007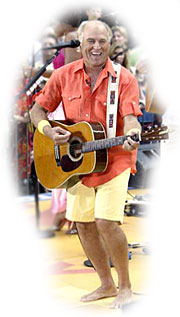 As an original "before the salt" Jimmy Buffett fan, I'm embarrassed to have missed his 60th birthday — I was there in the 1970s and have the original vinyl albums to prove it … along with books and concert memories — right Jeff? (am I getting that old?). Anyway, happy belated birthday Bubba.
😀
Time has changed my priorities as they do most of us; we graduate college, get married and raise families, yet there are still parts that enjoy escaping to the 'dreams' of southern latitudes and attitudes. Yes I've become a bit more responsible and reality keeps me from doing anything radical, but there are times I contemplate an eccentric mañana. If I'm in the mood to reminisce or extinguish a bad day, playing a few Buffett songs will usually bring a smile to my face and pleasant dreams to my sleep.
Thanks to Andy Bowers of the Slate podcast (included in the "What I'm Listening to" sidebar), who reminded me that "the Pirate turned 60" while reading Jody Rosen's article The Mystery of Margaritaville. Jody, in her article, attempted to dissect the Jimmy Buffett following and what really is a "parrothead" … personally speaking, she missed much of it as it relates to me. Nevertheless, I suspect she was right about a few other light and hard core concert goers. For me it is more than just an evening of escapism … the lyrics in many songs touch my love of sailing and desire to be on the ocean. The dream of self sufficiency, independence and freedom which are part of voyagers are desires of my soul. Jimmy Buffett rekindles that and helps me to reset my course. Someday … someday … yes someday hopefully soon … I'll be sailing again and know that Jimmy Buffett music will be with me.
I'm adding a Quicktime clip of a 1998 Charlie Rose interview with Jimmy Buffett below; it was one of the first 'video to computer' encodings that I archived and so I updated the codec to H.264 figuring this was a good place to include it.