Posted By RichC on May 12, 2007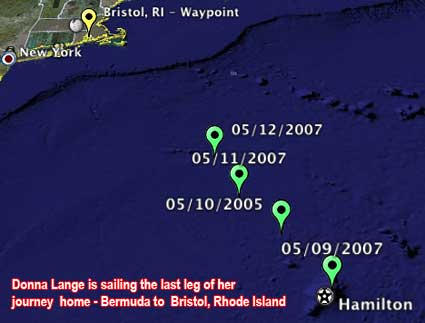 Those occasionally reading my blog have no doubt seen a post or two on solo circumnavigating sailor Donna Lange, well today is no exception as she is only a few days from Bristol, Rhode Island. After facing a nasty blow in April [1] [2][3], Donna was forced to hole up and make repairs in Bermuda. To her amazement, supporters following her voyage treated her with a ticket home to the U.S. so she could attend the planned media bash/ homecoming celebrating her journey. (and it has been a life journey as much as it has been a voyage) For Donna, the celebration was overwhelming and her spirit was soaring. As May rolled in, she returned to the task at hand, repairing her 28 foot sailboat, Inspired Insanity and preparing for that last leg home.
Of the highest priority was the self-steering gear and wind generator as both are near necessities when sailing alone. Second was replacing the starter on her diesel, of which was though to be at the root of most of the engine problems, unfortunately the was another diesel injector pump problem. She and help on Bermuda tried for two day to repair, but finally the mechanical beast got the best of her and she toss lines without diesel auxiliary power. Its a sailboat right?
Her ships log or journey finds her sailing happily along miles from Bermuda and miles from her destination in Bristol, RI … although she is not to far from the Gulf Stream. (current that runs north then northeast off the eastern coast of the United States) Yesterday she commented on dolphins, "just before sundown. a single dolphin appeared … I dashed down to get my tin whistle and when I returned, the water was churning with small green and gray dolphins.. leaping in 7's, broaching, jumping. I played music and they played around the boat a long time. It was glorious and such a boost to my energy" and then it was a whale … "I saw a burst of water blast into the air to the SW of me. Sure enough the rounding of the hump of a bigger whale followed. A tail broached.. Magnificent. Though near a mile away, I couldn't resist playing him/her a round of tunes on the whistle. I saw the whale broach a couple times following along side me before I saw her no more. My first whale sighting in my whole trip."
As she sails her final couple of day toward home, I'm somewhat melancholy as the voyage comes to a close. I've enjoyed participating through emails, her music and positive and uplifting outlook. Both my daughter and wife have read Rhonda Byrne's bestselling book, "The Secret" … and now I hear Donna commenting on it too. It seems they may all be onto something … "you get what you put out there." Interestingly, people are drawn to others with a positive outlook, included Donna Lange. She exemplifies putting much of this philosophy into practice … from pursuing a voyage around the world in a small sailboat, to her notorious "All good." Thanks Donna.