Posted By RichC on May 30, 2007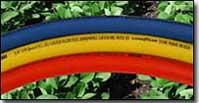 Renewable fuels including E85 and Biodiesel are tough on rubber and polymer refueling hoses. Many pumps, including my current garage based transfer pump, have 'weepy' hoses which soften when exposed to the new alternative fuels. Goodyear has announced a new product they have dubs "Flexwing VersaFuel" which handles most common fuels.
Goodyear Introduces Versatile Transfer Hose

VICTORIA, British Columbia, May 21, 2007 – To help North America promote alternative fuels and reduce its dependence on foreign oil, Goodyear Engineered Products has introduced its most versatile transfer hose to handle many fuel types.

Goodyear Flexwing VersaFuel transfer hose meets the needs of expanding alternative fuel markets and conventional fuel markets.

Unveiled today at the annual NAHAD hose distributor convention, VersaFuel is used in tank truck and plant operations to transfer diesel, gasoline, oil, biodiesel and ethanol blends, as well as petroleum-based products with up to 60 percent aromatic content.

It gives Goodyear Authorized Distributors the flexibility to service existing and new fuel markets with one product, according to Keith Collett, marketing manager for Goodyear's industrial hose business. "VersaFuel helps simplify product selection, lower distributor inventory costs, and meet the needs of emerging fuel markets," he said.

This year alone, the ethanol market is expected to surpass six billion gallons of clean burning fuel, according to the American Coalition for Ethanol, and in 2006 U.S. biodiesel fuel production surpassed 200 million gallons, the second consecutive year of triple digit growth as reported by the National Biodiesel Board (NBB).

Alternative fuels such as ethanol and biodiesel blends are good for the environment and farm industry but may aggressively attack rubber hose compounds and possibly degrade a hose cover and inner tubing, said Collett.

VersaFuel's outside cover resists degradation from fuel blends and is abrasion resistant. The inner tube material helps resist swelling, softening or cracking possibly caused by alternative fuels, which can extend hose life and ensure metal coupling retention.

Its helix wire reinforcement reduces the risk of collapse, permitting VersaFuel to also be used for full vacuum applications.

"In addition, the hose construction helps dissipate static build-up that can lead to a static discharge near volatile fuels," said Collett.

He added that VersaFuel's rugged construction is designed to withstand extreme cold and heat. It operates at temperatures ranging from -30 to 180 degrees Fahrenheit, permitting use during all seasons and eliminating any outdoor storage concerns.

The hose is stocked in 100-foot lengths and seven diameters from one to four inches.