Posted By RichC on March 19, 2008
Newsy couple of items from the last feel days — from politics to the economy. Here's are the two biggies for March 2008.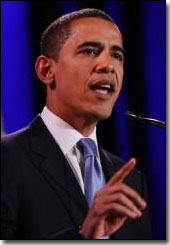 First, the big news has been the offensive remarks associated with Democratic candidate for President, Barack Obama. The anti-American and racial messages from his long time pastor and friend, Rev. Jeremiah Wright have triggered a backlash of concern over Obama's judgment and ties to the more radical element of African-American culture. (see video comment montage below) On Tuesday, Senator Obama delivered a speech attempting to distances himself the pastor of 20 years and dealing with the race issue which is still divisive in America. (NYTimes article) As an intelligent politician and excellent orator, Obama's 30 minute speech was tailored to answer questions about race and is hoped by his supporters to put his campaign back on track. Current polling shows him significantly behind in the state of Pennsylvania, although his lead in delegate count still makes him the front runner for the Democratic nomination. USAToday shows Clinton and Obama neck and neck for the nomination.
On the Record montage of Rev. Wright
[flv:FN_GretaRevWright080317.flv 485 355]
Second, the Fed has again made moves to stimulate our economy at the expense of the weak dollar. Adding more capital through any means they have, the Fed cut rates 75 basis points today; it isn't going to make the dollar any stronger … at least in the short term. Current rates are at historically low numbers and match the lows of December 2004. The low 2.25 fed funds rate is hoped to salvage struggling banks and borrowers who have been too aggressive in both loaning and borrowing money. If you are a homeowner with higher rates and reasonable equity, now might be a good time to refinance your debt.
Release Date: March 18, 2008
For immediate release

The Federal Open Market Committee decided today to lower its target for the federal funds rate 75 basis points to 2-1/4 percent.

Recent information indicates that the outlook for economic activity has weakened further. Growth in consumer spending has slowed and labor markets have softened. Financial markets remain under considerable stress, and the tightening of credit conditions and the deepening of the housing contraction are likely to weigh on economic growth over the next few quarters.

Inflation has been elevated, and some indicators of inflation expectations have risen. The Committee expects inflation to moderate in coming quarters, reflecting a projected leveling-out of energy and other commodity prices and an easing of pressures on resource utilization. Still, uncertainty about the inflation outlook has increased. It will be necessary to continue to monitor inflation developments carefully.

Today's policy action, combined with those taken earlier, including measures to foster market liquidity, should help to promote moderate growth over time and to mitigate the risks to economic activity. However, downside risks to growth remain. The Committee will act in a timely manner as needed to promote sustainable economic growth and price stability.

Voting for the FOMC monetary policy action were: Ben S. Bernanke, Chairman; Timothy F. Geithner, Vice Chairman; Donald L. Kohn; Randall S. Kroszner; Frederic S. Mishkin; Sandra Pianalto; Gary H. Stern; and Kevin M. Warsh. Voting against were Richard W. Fisher and Charles I. Plosser, who preferred less aggressive action at this meeting.

In a related action, the Board of Governors unanimously approved a 75-basis-point decrease in the discount rate to 2-1/2 percent. In taking this action, the Board approved the requests submitted by the Boards of Directors of the Federal Reserve Banks of Boston, New York, and San Francisco.