Posted By RichC on June 1, 2008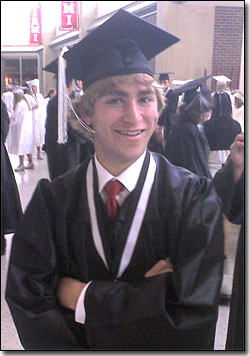 It has been a busy few days getting ready for a well attended open house, family for the weekend and my son's high school graduation ceremonies. (baccalaureate and graduation) The good weather held and everything went very well, thanks to my wife's planning … and we even have some left over food!
Since I'm traveling this week and didn't have a chance to transfer my digital photos from the camera to the computer, I'm going to include just one pre-graduation photo taken with my cellphone. Thankfully the ceremony at Millet Hall at Miami University was well orchestrated for a larger high school graduation class and we were in an out within a couple hours. To the Lakota school officials credit, they have graduation ceremonies figured out … except for the traffic in getting to and from Oxford, Ohio! (slow traffic)
🙂
Lakota grads lauded
Class of 2008 — involved and engaged — looks back and forward

OXFORD — The Class of 2008 merited all the pomp and circumstance, said Superintendent Mike Taylor at the graduation ceremonies for Lakota East and West on Saturday, May 31.

"Regardless of when you started here, this class has exemplified how students can connect with their school and participate in their school activities and the community," he told the nearly 1,300 graduates and thousands of parents that attended the two ceremonies at Millett Hall on the Miami University campus in Oxford.

When this class started kindergarten in 1995, there were 12,700 students in the district, compared with this year's 18,300 students, Taylor said.

With student engagement a goal within the high schools, surveys showed these graduates participated in sports, arts, volunteer projects and school clubs.

"For all of us, Lakota has grown with the Class of 2008," Taylor said. "In the 50-year history of the Lakota Local School District, this is the most involved and engaged class in our entire history."

Student speakers recalled memories from school and community activities that lead to their success.

East valedictorian Deanna Pan compared her experiences to the batter of a cake with graduation as the frosting.

East salutatorians Ronak Buch and Joseph Vermeersch said their experiences have taught them discipline and given them a drive for the future.

West's salutatorian Robert Samblanet said their success was built on persistence, achievement and continual support.

"What is persistence if there's no one to drive us," he said. "What is achievement if there is no one to challenge us."

Valedictorian Raymond Xi reminded students to prepare to go separate ways while maintaining their common link as Lakota graduates.

"Today is not only a day to look back, but also a time to look forward," he said.