Posted By RichC on September 29, 2008
Like many investors, I've been watching the reaction to the bank melting down on Wall Street. All who are invested in America (and rippling overseas) are going to be impacted in real estate value, stock value, bond security and the ability of our government to remain sound. This devaluation will no doubt slow our economy and threaten jobs, not just those jobs in the non-competitive industries (ie. Auto, etc). As all 30 DOW Industrials open Monday morning, they do it to a down side even as a $700 billion dollar rescue package seems to be inevitable; some suggest taxpayers will be required to pay even more.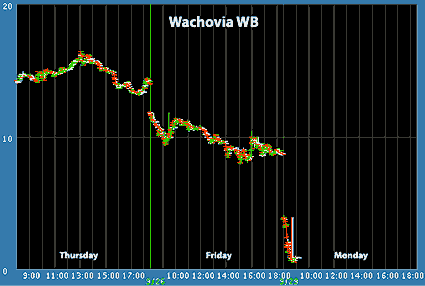 Perhaps the biggest news of the morning is that Citigroup will buy Wachovia Bank for about $2.16 billion, or $1 per share, for its banking operations — Friday WB was trading for $10/share and last year it was $50/share. Wachovia will retain its wealth management and brokerage operations according to stories.