Posted By RichC on February 18, 2009
My wife has hinted that she was "ok" with me planning a backpacking trip with my buddy this year, so I started sifting through my gear (we regularly went we were younger) in anticipation of planning a trip to the mountains. One exceptionally great piece of gear that makes a long day of hiking more comfortable is the $14 Tringia alcohol stove. It is one of the more popular small backpacking stoves and is ideal for simple trail-side cooking or heating of meals. Its a Swedish made lightweight stove that has as its primary attribute "simplicity."
Rarely does one hear of a failure when it comes to a simple alcohol burner … although when I used alcohol stoves on a sailboatwhen I used alcohol stoves on a sailboat I wasn't really fond of them and preferred the more explosive propane gas fueled stoves  — I would have used lighter than air compressed natural gas IF we could have found it more convenient. Nevertheless, alchohol stoves are safer, simpler and lighter — exactly what a backpacker needs.
Compared to natural gas/propane or any pressurized fuel stove which is easier to cook on and can heat faster than a non-pressurized alcohol stove (takes about 15 minutes to boil water for my coffee or tea),  the weight of  the simplier Trangia burner (or homemade pop can variety) is far easier to pack and carry … especially if you are working hard to keep you carrying weight down. The fuel is also easier to pack than pressurized gas and I keep mine in a lightweight bottle which works better with the corrosive methanol fuel. Because there are no pumps or valves to fail, the Trangia is near foolproof and functions every time with a single match in all but the highest altitudes and coldest weather (preheating helps).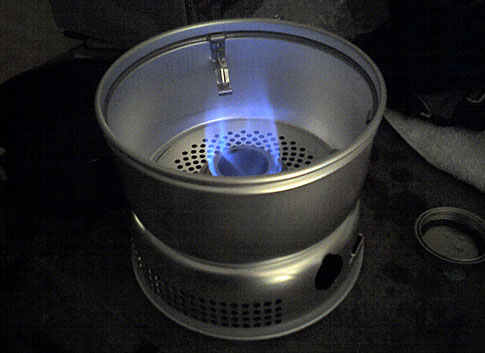 The clean flame of alcohol fuel is environmentally correct in today's culture and fits right in with most hikers' desire to care for the wilderness they are enjoying. For trips under a week, a Trangia stove,  and a menu that fits the flame,  are an excellent choice for the trail.
If you don't already have a 'mess kit' or you're own backpacking cook gear, Trangia also make a nice nesting set of non-stick cookware.