Posted By RichC on July 16, 2009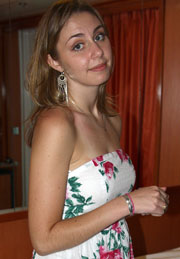 After a long day in Malaga, Spain we set sail at 6PM on Wednesday evening. We were all tired out from our day and turned in with a movie on our cabin (Benjamin Button) after a celebration Japanese dinner. Celebration since the scores for my daughter's Step One medical boards were passing (taken after year two of Med School). They were posted at 11AM EST or 5 PM ship's time and required an Internet connection in order to check. We were all happy for her and I know she was relieved to have the stress behind her.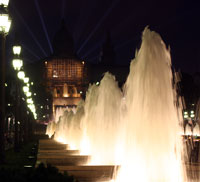 I'm composing tonight's post in the ship's library after a wonderful evening in Barcelona, Spain. The girls are nearly asleep and I'd just didn't want to let another day go by before transferring photos from my SD card to my computer … a back up seems prudent considering theft is always a possibility when exploring a big city.
Tonight we walked a significant distance (perhaps 45 minutes) up the Avenue Praral-lel to Place d'Espanya in order to watch the dancing and lit fountains and listen to music. The fountains are called Font de Montjuic and it was well worth the walk, not only the beauty, but admiring the buildings, cafes and city life along the way.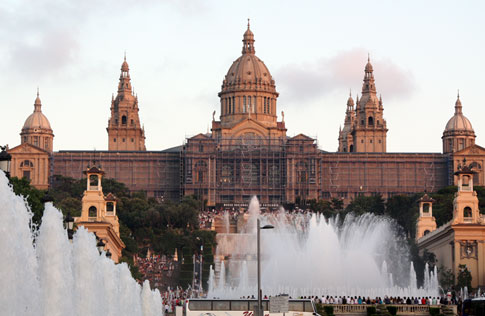 The buildings around Placa d'Espanya – still under restoration (above) & waterfalls in front (below)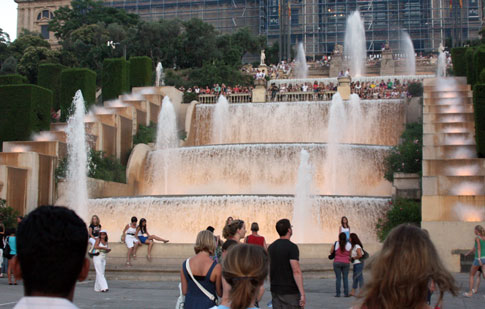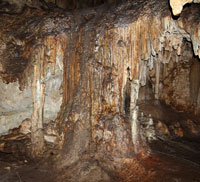 A little catch up is in order as we also enjoyed the day yesterday in the city of Magala and drive up the coast of Spain (bus) through the city and then small "farms" as they are called on our way to Nerja. In Nerja, we toured a huge cave with giant stalactites and stalagmites. They were setting up for an underground musical performance while we were there … something that happens only once each year in July.
_
_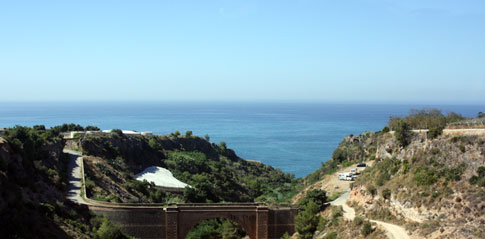 Drive up coast and ancient aquaduct bring water to dry areas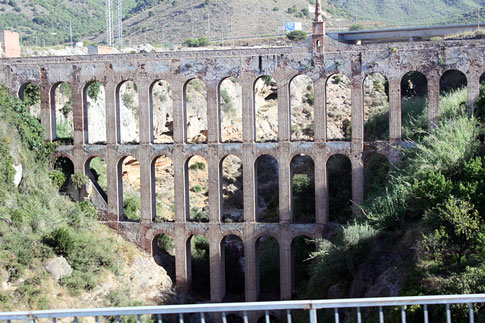 Much of the beauty was realized when walking (no cars) in the old town area as we were able to walk to the beach and grab our 'sand sample' … something my wife has done ever since our honeymoon. Bummer … the battery on my notebook is dying and a hint for other NCL Jade travelers: There is only a 220v European AC plug available on the ships library.
Updated: Pulled video from Palm Centro of the Fountains in Barcelona