Posted By RichC on December 17, 2009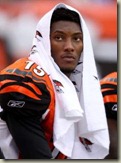 The Cincinnati Bengals wide receiver Chris Henry at age 26 died Thursday morning in Charlotte, North Carolina from injuries he sustained falling on Wednesday from a moving truck. He was hospitalized and died at 6:36 a.m. after being on life support.
According to reports, Charlotte-Mecklenburg police officers responded to a call shortly after noon on Wednesday finding "Henry in the road with life-threatening injuries" after being involved in a "domestic situation." Preliminary reports state that he jumped in the bed of the truck that his fiancée, Loleini Tonga, was driving and "at some point came out of the back."
As a Bengal, Chris Henry was an immensely talented receiver, yet made a mess of his life off the field. His first three season in Cincinnati were tainted with "run-ins with the law." He had drug related charges, a gun possession arrest, as well as a DUI. He served jail time for drinking with underage girls and served an 8 game disciplinary suspension in 2007. Cincinnati fans had enough of Henry's delinquent behavior after seeing 5 arrests in only 28 months. Bengals president Mike Brown released Henry with little opposition, but then decided to re-hired him again a short 4 months later; Cincinnati fan's were embarrassed. After a promising start for the 2009 season with 12 reception for 236 yards and 2 touchdowns, Chris Henry suffered a broken arm which ended his season. He was put on injured reserve.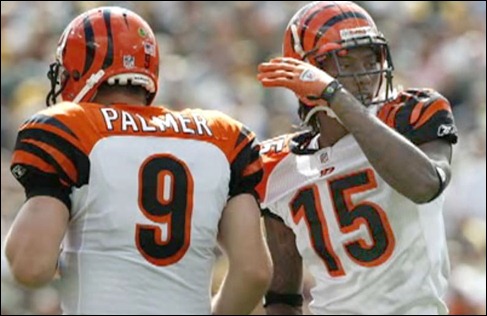 Through all of the drama, his fiancée Loleini Tonga remain supportive and in interviews Henry verbalized his appreciation for her standing by him. He was said to be a loving father to the three children and was in the process of planning a March wedding.
As with many talented individuals, finding fame, money and professional success at a young age, isn't helpful for one's maturity. Chris Henry has noticeably struggled with his personal maturity and to many fans has been an accident waiting to happen. He had an athletic gift on the field, but chose not to live within acceptable social standards off the field. Friend and offensive lineman Willie Anderson stated, "people busted their tails beyond duty helping him out. He has found the end of the rainbow three or four times." For Chris Henry, their won't be anymore rainbows in this life. (May 17, 1983 – December 17, 2009)
FOR IMMEDIATE RELEASE; FRIDAY, DEC. 17, 2009

FROM CINCINNATI BENGALS PUBLIC RELATIONS

BENGALS MOURN PASSING OF CHRIS HENRY

The Bengals were informed today by authorities in Charlotte, N.C., that WR Chris Henry died this morning from injuries sustained in an accident in Charlotte yesterday.

Henry played in this season's first eight games with the Bengals, but was sidelined for the remainder of the season with a left forearm fracture he suffered on Nov. 8 at Baltimore. Henry was in Cincinnati last weekend for an exam by the team's medical staff. As there was no rehab indicated for his injury beyond periodic adjustments of his cast, he was cleared at that point to return to Charlotte to be with his fiancée, Loleini Tonga (first name pronounced 'LAY-nee') and her family.

The couple had announced plans to be married in March. Henry leaves two sons, Chris Jr., two, and DeMarcus, one.

Funeral arrangements are incomplete.

Bengals president Mike Brown and head coach Marvin Lewis addressed news media today regarding Henry's passing.

"Here at the Bengals, we knew Chris as a teammate and a close friend," Brown said. "To us, he was a warm, pleasant and easygoing person. He was popular with the players, coaches and team management. This is a painful feeling, a tragedy, and we will miss him."

Henry's hometown was Belle Chasse, La., near New Orleans. He played in college at West Virginia and joined the Bengals as a third-round draft choice in 2005. He had a succession of legal problems early in his career, resulting in multiple NFL suspensions. But the last offense for which he was convicted occurred in 2006.

"Peeople were surprised that we stood by Chris during his problems," Brown said. "The reason was, we knew Chris to be different than his public persona. To the best of his ability, Chris reached out to the team, his friends and his family. Everyone tried to help, and sometimes it went awry. But Chris' heart was always in the right place. He was a good person, and he was on the road to doing well in his football career."

Born May 17, 1983, Henry played during five Bengals seasons (2005-09). He saw action in 55 games with 12 starts, catching 119 passes for 1826 yards and 21 touchdowns.

"We had seen Chris expand this year as both a person and on the field," said Lewis. "He had grown and matured. We extend our deepest condolences and prayers to Chris' family and to everyone else who held him dear."
_