Posted By RichC on January 24, 2010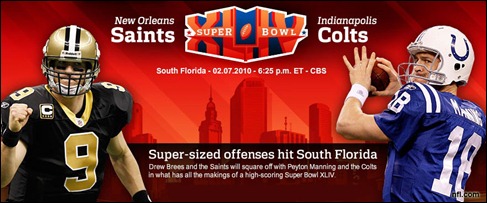 After spending a few enjoyable hours watching football Sunday afternoon,  it was exciting to find out who would go to Miami and conclude the 2009 NFL football season: the AFC champion Indianapolis Colt and NFC New Orleans Saints. After watching our Cincinnati Bengals lose two weeks in a row to an strong New York Jets team, I was wondering if the mechanical veteran offense of the Colts would be able to pick apart the Jets solid defense. After a close first half, Payton Manning seemed to study the photos and exploit even the smallest weakness as his rapid paced machine outscored the New York Jets in the second half. For the AFC, few will disagree that the best team will be going to Superbowl 44.
For the NFC, the sentimental part of me was rooting for the 'old man,' Brett Favre, to continue the magic, but the other part wanted to see the 'bag over the head' fans finally being heading to a Superbowl. After a hard fought championship game, the Vikings mistakes (5 turnovers) gave the game to the Saints and Minnesota's season – and perhaps Brett Favre's career – came to an end.
The February 7, 2010  Superbowl is set … the technically near perfect offense of the Colts against the high powered scoring offense of the Saints. It may come down to who's defense can stop slow the other team?