Posted By RichC on February 25, 2010
While waiting for the expected Palm webOS 1.4 anticipated update, I've been thankful not to have invested in PALM stock after last years new products. As more and more competitors jump into the smartphone market and take the limelight off the Pre and Pixi phones, the concern is over the profitability (and survival) of the company …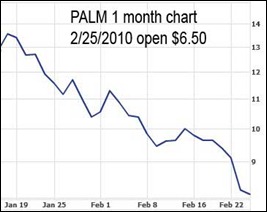 and resonates with investors selling off their shares.
Palm Chief Executive Officer Jon Rubinstein now really has his work cut out for him after the releasing news that Palm is slashing fiscal third quarter and full year revenue targets (article below). At the stock market open this morning, Palm stock was down to $6.50/share continuing a month long slide. Month long PALM investors have lost nearly half their share values and with the recent targets from management, the balance of 2010 doesn't look to be offering much hope.
EDIT: WSJ 2/26/2010 update article on Palm.
Thursday February 25, 2010, 9:39 am

NEW YORK (Reuters) – Palm Inc (NasdaqGS:PALM – News) slashed its fiscal third-quarter and full-year revenue target due to slow consumer demand for its products, dashing hopes its webOS software would help it fend off bigger rivals for now.

Palm shares fell 18 percent on Thursday after it said it expected quarterly revenue of $300 million to $320 million on a non-GAAP basis, well below the analysts' average estimate of $424.7 million, according to Thomson Reuters I/B/E/S.

It blamed slower-than-expected consumer adoption of its products, leading to weaker-than-expected orders from operators and the deferral of orders to future periods.

As a result, it said full-year results would be "well below" its own target range of $1.6 billion to $1.8 billion. Wall Street was expecting full-year revenue of $1.6 billion, according to Thomson Reuters I/B/E/S.

The warning followed downgrades earlier this week from at least two brokerages on concerns about sales of Palm phones at Verizon Wireless, the biggest U.S. mobile operator and a venture of Verizon Communications(NYSE:VZ – News) and Vodafone Group Plc (LSE:VOD.L – News).

Palm is betting on its new webOS software to help its phones compete more effectively against rivals such as Apple Inc's (NasdaqGS:AAPL – News) iPhone and BlackBerry from Research in Motion (Toronto:RIM.TO – News).

However, after a very high-profile launch last summer of Pre, the company's first webOS phone, the device was hurt by supply constraints and stiff competition.

Earlier this year, Verizon Wireless became the second U.S. provider to sell the Palm phones, which were exclusive to customer-losing provider Sprint Nextel (NYSE:S – News) last year.

Palm Chief Executive Officer Jon Rubinstein said the company was working closely with carrier partners to increase awareness of its products and drive sales.

"However, driving broad consumer adoption of Palm products is taking longer than we anticipated," the executive said in a statement announcing the revenue outlook.

Palm shares fell 18 percent to $6.63 in early Nasdaq trading.

(Reporting by Sinead Carew; Editing by Lisa Von Ahn)