Posted By RichC on February 6, 2010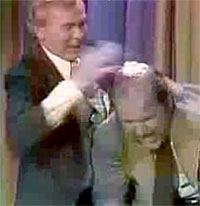 Since I missed posting to the blog on Saturday, I decide to back date a post that I found enjoyable.  Obviously I'm getting older since I can remember Johnny Carson hosting the Tonight Show, but I thought I'd share a clip portraying better late night television comedy that I'm seeing nowadays … in my opinion. Johnny Carson and Dom DeLuise "back in the day," as my daughter would say has some pretty funny stuff.
How does it compare to the late night show of today?