Posted By RichC on February 8, 2010
The days of the "paper bags over the head" have given way to "destiny" and a dream come true for the 2010 Super Bowl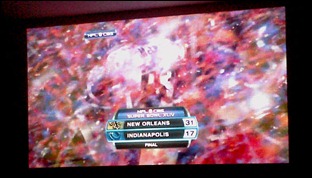 winning New Orleans Saints and their many fans on Sunday. I thought the cool headed Peyton Manning and the Indianapolis Colts would end up on top when pitting arm against arm,  but the mistake free Drew Brees threw for a recorded tying 32 completions, rallying his team to a 31 to 17 victory over the Colts. He was deservingly chosen the game's MVP for a performance admired by any fan of the NFL. Brees stated after the game, "We just believed in ourselves and we knew that we had an entire city and maybe an entire country behind us. What can I say? I tried to imagine what this moment would be like for a long time and it's better than expected."
A disappointed Peyton Manning (four time NFL MVP) commented as he walked to the sideline after the game, "It's time for the Saints to celebrate. It's their field and it's their championship." Manning's performance was almost MVP caliber and if the score would have been reversed, I have no doubt Manning would have been the game's MVP. Although the Colts quarterback was nearly perfect,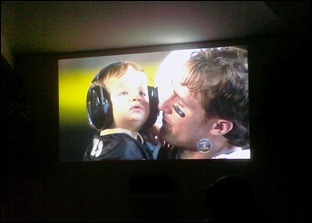 he did throw the games only interception — a costly turnover that was returned by New Orleans cornerback Tracy Porter for a touchdown. The games only turnover prevented the Indianapolis Colts a chance at tying the game in the 4th quarter. Unfortunately for Colts' fans, it was not to be. The Saints continued to click on all cylinders and dominated the second half in "time of possession." They scored one more time giving little time for Manning to score once, let alone twice.
Drew Brees and son after the game (Palm Pre of home theater)
Great game and one that looked to have been enjoyed by most of America. Speaking of enjoying the Super Bowl, The Who's performance was 'good' and enjoyed by most of us boomers, but on Monday it seemed to have been lost to celebration in New Orleans and chatter about the commercials. Personally I liked the Denny's commercials … but some of the others were enjoyable too.