Posted By RichC on March 3, 2010
A large rogue wave, actually three "abnormal" waves, hit a Greek cruise ship with 1350 passengers and 580 crew in the Mediterranean north of Barcelona, Spain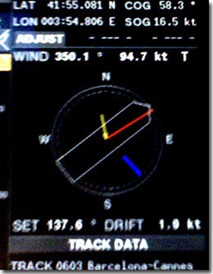 killing two passengers and injuring fourteen. The Louis Cruise Line ship, Louis Majesty, has 14 decks and is over two football fields long. It hit the three 26 foot waves bow first resulting in caving in five windows in public lounges on the forward part of the ship. The two passengers, Italian and German males were killed and the others were treated aboard the ship for "light injuries" and hospitalized as a precaution. That quote aside, a 62 year old woman had fractures in both legs.
The incident brings back memories of our European vacation this past summer where we experience heavy weather and strong winds aboard the NCL Jade (cellphone photo of the navigation instruments right – notice wind speed gusting at 94.7 kt).
Also, because a photo is worth a thousand words, an incident in January last year in the Bay of Biscay caused ships to return to Dover England after hammering into 50 foot waves … photos below.