Posted By RichC on April 6, 2010
If you are looking for work in New York State, how about Michael Cunningham's job with the Department of Labor (article below)? Good pay with a government pension and benefits … so as long as citizens can be taxed to pay his $115,000 per year salary …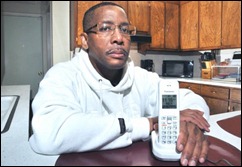 or so long as politicians can find someone with income or property they can tax.  The down side for Mr. Cunningham is that  he must make two phone calls a day from home office – it's not stimulating work. (I'd add a smiley, if I weren't so disgusted – Thanks for the link Tim H.).
I'm dumbfounded as to why Americans continue to elect people who advocate expanding government … government well beyond our Minarchist and Federalist beginnings. Politicians continue to spend our fewer recession impacted tax dollars and BILLIONS in borrowed money with the facade of stimulating the economy, much of it through hiring even more government employees. Of the newly employed this past month, one-third were government census workers — even worse, the current administration in Washington DC plans to hire 16,000 additional 'beloved' IRS employees so they can dictate a Trillion dollar program on every citizen. By punitive enforcement they will force all to buy a government approved health insurance policy – unless states are successful in declaring the act unconstitutional.
Aren't you glad our founding fathers fought and died to build a country free from the oppression of government? [/sarcasm]
"I have no work," says state executive Michael Cunningham, who sits at home and reports in by phone.

For five minutes of work each week, state executive Michael Cunningham earns $2,200 — unless his employer, the Department of Labor, imposes penalties for things such as reporting to work too early or places him involuntarily on sick leave.
Cunningham performs his duties, what few there are, from his suburban home with an eye on the clock, because he's docked a day's pay if he doesn't call the office at precise times twice daily. That's the way it's been for most of the past 19 months, since his boss designated his residence as his office.

The home alone situation follows a period in which Cunningham was investigated and found guilty of misconduct — for taking off early three times — with investigators taking extraordinary measures such as getting his E-ZPass records and securing a tracking device on his 2006 BMW.

"He's on house arrest," said Joseph Sano, executive director of the Organization of Management and Confidential Employees, which represents state managers and support personnel who are not in unions.

Cunningham's boss at the Department of Labor expects the $115,000-a-year work force training manager to manage no one. He must get permission to leave his house during normal work hours. That's in case someone might try to contact him from the office, which, until a reporter began inquiring recently, has been rare.

"I have no work," Cunningham said. "When you check and double-check the facts, you're going to be outraged. A whole lot of people are going to be outraged."

In May 2009, his supervisor made Cunningham's house Cunningham's official work station, DOL letters show. He's been directed only to make two calls a day to a secretary. Each takes about 20 to 30 seconds.

A reporter observed his workload last week: Cunningham dialed seven digits from his cordless phone from his kitchen. "Hi, is this Linda?" he asked during a call on Monday morning. "I'm checking in. OK, Linda. Have a good weekend? OK. I'll check in with you this afternoon."

After hanging up, he said: "With that, I'm officially on duty," a nervous smile appearing.

He explained that he must call at 9 a.m. and 4 p.m. A letter from his boss proves that, and department officials agree. "I have to be here if they call," he said. "They never call."

State taxpayers aren't getting much in return for employing Cunningham, who joined the Labor Department in 1980 and, in 1988, became the director of organizational and staff development, the Civil Service job he currently holds. He says he developed several initiatives that are key organizational tools today, such as a distance learning program.

Now, however, every day is dress down Friday for the 58-year-old, who in years past donned business suits and worked in the executive suite at the DOL's Albany headquarters. The highest ranking African-American manager at his agency who isn't an appointee, he is set to celebrate his 30th year of state service in October, unless his employers figure a way to fire him. If he makes it, an office party is unlikely. He is barred from reaching out to any staff.

Cunningham's case is complicated and his story can get convoluted. But it is clear, based on public records, that he has been at odds with his boss, Andrew Adams, the associate labor commissioner for human resources, for several years. Adams, an appointee from the Pataki administration, has docked Cunningham a full day's pay for calling in 15 minutes too early or for not calling in at all and once for not accepting a registered letter at home. The department placed him on sick leave for weeks, causing him to get half pay as a result. These actions may be illegal, Cunningham's representatives say, because he was denied due process.

Labor Department records show from August 2008 to October 2009, he was paid for 108 days. The rest of that period, he served on 30-day suspensions, sick leave and leave without pay. From October 13, 2009, when Adams gave him a task to do at home, to Feb. 22, Cunningham worked a total of 10.5 days. The rest of the unpaid days were a result of a 60-day suspension without pay, use of accruals, unpaid leave and docked time for not calling into to work as required.

He says he's lost about half his pay and will fight to get the money because the Labor Department violated labor rules by arbitrarily docking him.

"I don't enjoy being held hostage at home," he said. "I want to work."

Before he was escorted out of the department's headquarters in August 2008 for suspicion of doctoring his time records, Cunningham was tailed by the department's internal investigative unit in attempts to discover if he was absent without permission. Charges that he stole time were upheld in a hearing. The department got the state Inspector General's Office to investigate further.

The Labor Department set out to prove Cunningham's misdeeds in the spring of 2008. First, he was followed home by department investigator as he took a half-day off from work triggering charges. In a second probe, his E-ZPass records were pulled by inspector general investigators monitoring his attendance at a Syracuse training session, they testified in a hearing. Over three months in 2008, the inspector general's surveillance included secretly attaching a global positioning system beneath Cunningham's personal car, other hearing testimony showed.

"Over a 30-day period Cunningham was absent from work for 13 hours and 15 minutes for which he failed to charge personal/vacation or sick leave accruals," the inspector general found. "Cunningham falsely reported on his timesheets that he worked these hours."

"I work a lot of overtime," Cunningham said, referring to his past with the DOL. "Not one executive I know was punching a clock."

The Labor Department suspended him without pay for three months for taking unauthorized leave time on parts of three days in April 2008. An independent arbiter upheld the charges, although he recommended just two months suspension. Cunningham now faces new charges for the actions documented by the inspector general.

Over the past year, Adams directed Cunningham to refrain from contacting DOL personnel or vendors and barred him from access to department files. Last fall, Adams assigned him to develop a leadership skills curriculum from home. Cunningham said he spent four or five hours on the task, the only one ever given him during his expulsion from headquarters, because he had essentially written the curriculum years ago and any updates would require him to interact with staff to find out their needs. Until last week, after inquiries by the Times Union to the department about Cunningham's situation, Cunningham had no further duties, he said. A letter he received March 30 by certified mail from the DOL employee relations department directed him to report in person to the department on single days in upcoming weeks to summarize what he is doing to develop the leadership curriculum. The letter said he is under disciplinary charges for failing to provide weekly progress reports on his assignment to Adams as he had previously been instructed. Adams promised to pay for his commute from his home office to headquarters during the days he is being summoned.

Cunningham's lawyer, Kenneth Varley, said the DOL's case wrongly accused his client of being absent without properly charging his time and has commenced a state Supreme Court lawsuit against the DOL. He is also trying to get E-ZPass data excluded from use, saying the toll records should never have been released given privacy protections. He alleges Cunningham is being retaliated against for a U.S. District Court suit filed in 2005 against the Labor Department in which Cunningham claimed he was subjected to discrimination because of his race.

Varley said he has never seen a predicament such as Cunningham's during 30 years of legal representation, including many labor cases. The treatment Cunningham is getting is unique among public employees, he said: "They're trying to get rid of him. This … house arrest is almost a form of punishment."

The Cunningham case may be unlike others, but clearly other public employees are in positions in which they are not providing value to their employers. For instance, Randall Hinton, the $93,803-per-year State Insurance Fund employee who last year said he has done little more than count cars and listen to his iPod for years, said his job status is unchanged. "I'm still counting cars," he said Friday. He is awaiting a decision by the Human Rights Division on his complaint against SIF.

Sano said the DOL may be acting illegally by requiring Cunningham to get permission from Adams to leave home during normal working hours and is breaking the law by docking him pay without hearings. "There is nothing in Civil Service rule, law or regulation that would support this abuse of administrative leave," Sano wrote to the Labor Department.

Sano said he has never seen a case like Cunningham's in 40 years of working with public officials. Managers often work overtime, he said, and Cunningham's work record needs to be examined more broadly. "When you're dealing with managers, you have to look at all 365 days," he said.

Leo Rosales, a spokesman for the Labor Department, said Cunningham was ordered to work from home because he was considered disruptive to staff. "They felt uncomfortable with having him around." Rosales said. He would not elaborate. However, a 2005 incident involving Cunningham allegedly confronting and pointing his finger at a supervisor who had questioned his time records resulted in a letter of reprimand, according to documents provided under the Freedom of Information Law from the department. That reprimand later was rescinded, Cunningham said.

A spokesman for Gov. David Paterson, who has been insisting the state work force make concessions to close $9.2 billion budget deficit, referred questions to Rosales.

Rosales said the department will be scheduling disciplinary proceedings against Cunningham for failing to complete the assignment he was given to do from home.

His salary, Rosales said, will end up being well short of $115,000 a year. Asked why the department doesn't terminate a person seen as disruptive, unproductive and unresponsive to direction, Rosales said: "As you know when it comes to Civil Service, we have to follow a process. There will be more hearings coming down the pike. We can't arbitrarily fire an employee, we have to follow the procedure."

Reach James M. Odato at 454-5083 or jodato@timesunion.com.

What will $115,000 buy?

A year's worth of groceries for 15 families of four

A modest bungalow and used car in Schenectady

Half a ticket to outer space on Virgin Galactic (you could cut costs by going one way)

Sources: USDA Food Cost plan for January 2010, timesunion.com/homes, Kelley Blue Book and the Virgin Galactic web site ( http://www.virgingalactic.com/booking/).

What can taxpayers get for $115,000?

Keep two visitor centers open most of the coming year in the Adirondack Park Agency's Newcomb and Paul Smiths sites.

Reopen the Empire State Plaza skating rink for two winters.

Keep the Schoharie Crossing Historic Site in Montgomery County open.

Source: State officials, executive budget.