Posted By RichC on May 9, 2010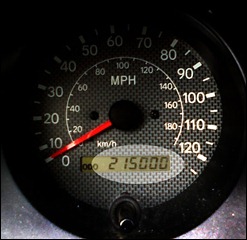 My wife's aging 1998 Toyota Rav4 has been a great car for 215,000 miles. We've had minimal maintenance over the years and although it is showing signs (and has been) of heavy use, it's still running strong. The Rav4 has offered both my kids a good platform to "learn to drive" and has seen its share of bumps and bruises over the years as well.
This weekend I replace the brakes one final time … or at least the rotors  … and continue to be impressed at how well this vehicle was engineered. The brake parts put on this mini 4 wheel drive SUV are surprisingly beefy. The lack of corrosion is impressive too. Even the rubber parts, like brake lines and bleed screw covers seem to have held up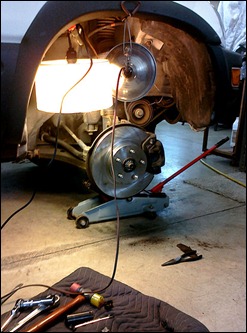 much better than many vehicle of this age. Kudos to Toyota as the two Camry vehicles in the mid and late 1980s and our 98 Rav4 have all returned over 200,000 miles and were both easy and inexpensive to maintain.
I'd be curious to know if the same can be said of their newer models?
On a completely off topic … father embarrassing his son blog inclusion …Taylor received his first ticket this past week while his car was parked at college. He hasn't had his car at college previous to the past week, but asked to have it for finals week so he could pack up his dorm room and bring his gear home for summer. We agreed and drove his car over to Miami University and he found an available legal street parking location nearby in Oxford, Ohio. Unfortunately the local police keep a close eye on violations like cracked windshields,  bumpers hanging over sidewalks or in my son's case … no front license plate. What made the ticket almost worthwhile was Taylor's irritated 2 minute "RANT" on my voicemail.
| | |
| --- | --- |
| | Taylor's parking rant (mp3) – sort of funny |