Posted By RichC on July 10, 2010

I'm merely archiving another disappointment for Cleveland, Akron and northeast Ohio when it comes to sports … although basketball this time. The roundball super-star Cleveland Cavalier forward LeBron James announced his free agency move to the  Miami Heat NBA franchise on Thursday night. Clevelanders were hoping against hope that James

would stay with the Cavs and might miraculously give them one more shot at an NBA championship title. For the loyal sports fans — and there are no better — in the financially depressed northeast Ohio area, it was indeed another body-blow. This time it was seeing one of their own (Akron Ohio born and raised) looking for greener pastures and perhaps a franchise offering a better opportunity for his extraordinary talent.
As someone who has lived in NE Ohio and is there for business weekly, I've seen my share of Cleveland professional sports heartaches, usually associated with the Browns. I was there for the Cardiac Kids, Red Right 88, The Drive and The Fumble … and the dark years after Cleveland Browns owner Art Modell moved them in the dark of night. I watch the Cleveland Indians slump for 30 years and rise to the top of of Major League Baseball in the 1990's … only to see their talent head for bigger markets and more money. I was fortunate to rub shoulders with Cavalier players like Mark Price and Craig Ehlo in the late 1980's and early 90's, watching them advance to the play-offs for 8 of 9 years. Their team was an inspired team of "average"  NBA players who performed with character on and off the court. My respect goes to Lenny Wilkens, the Cavs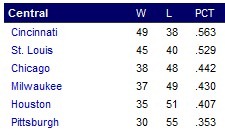 outstanding head coach from 1987 to 1993. Thanks for the memories.
Unfortunately, I've also come to expect disappointment and failure in Cleveland Ohio professional sports and politics (that's for another post), so goodbye and good luck LeBron James — thanks for 7 entertaining years. For now, I'm glad to be in Cincinnati with a first place baseball team and a promising Bengals football roster.
My son Taylor, who spends far too much time watching ESPN, reading sports news commentary and debating it all with friends, was disappointed as well, but he is not really surprised. Adam, his college roommate from Cleveland, posted his thoughts and frustrations in a sports blog as well — Cleveland's Hope — which I'll link to and share below.
Let me fill you in on how I felt in that moment. You know the moment I'm talking about. It was the moment that I found out, along with all of my friends, that the most coveted free agent in the league, and my personal hero, had just left Cleveland.

I was heart broken. In fact, I had never been so heart broken. And it felt personal. Very personal. How could he leave me? I had been there for him. I had rooted for him. I had made signs for him and bought multiple jerseys (home, away, alternate, etc.) with his number on it.

I was twelve. It was December of 2002. Jim Thome, the Cleveland slugger who had promised us continued greatness, had just announced he was leaving for Philadelphia.

It wasn't the media frenzy that the Lebron James announcement was. It didn't mean as much to the nation as the Lebron James announcement did. It wasn't televised live and it won't be forever remembered as "the betrayal/decision/contract/ or Benedict Arnold" here in Cleveland. But it greatly impacted me as a twelve year old. It was my first taste of what it meant to be a Cleveland fan. It was bitter.

Flash forward nearly eight years. I'm still not over the Thome incident. Meanwhile, I am reeling with my city over the loss of Lebron James. I feel numb. I feel angry. I feel like a sad twelve year old kid all over again.

I have never been a huge basketball guy. It has always been baseball for me. But across the city, twelve year old kids just like me are getting their first taste of real Cleveland sports. They had grown up spoiled, much like I had with been with the 90's Cleveland Indians. There are kids in this city that have never witnessed bad basketball here. They have never witnessed a time where Cleveland wasn't on the map. They have never witnessed the heartbreak. Until now. I feel sorry for them most of all.

But those kids can now join us among the legion of Cleveland sports fans that will receive greater joy than any city in the nation when our day arrives. And it will.

Lebron isn't invited.

Adam