Posted By RichC on July 7, 2010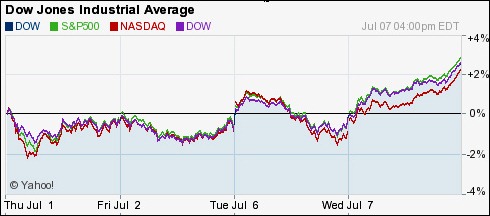 Up a week, down the next week. The markets closed with a strong surge of buying today as the approaching corporate earning season is expected to be optimistic . An analyst that I talked with today sees continued volatility for the balance of summer,

but he hinted that projections are for a 17% increase by the end of the year … and nearly 3% of that came today. 
The Dow Jones Industrial Average went back through the magical 10000 mark for the 8th time this year. The DJIA climbed 274.66 points or 2.82% closing at 10018.28  The Standard & Poor's 500-stock index was up 3.13% to 1060.27 and Nasdaq closed at 2159.47.