Posted By RichC on July 7, 2010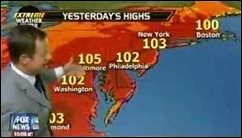 While stopping for lunch to check my emails this afternoon, I opened my Slingbox and noticed that triple digits will be hit up and down the east coast.  For once I'm thankful to only be in the 90's while driving in Ohio. The heatwave has been cooking has been cooking us for the past couple of weeks and has made having a swimming pool a worthwhile investment.
From National Weather Service:
PERSONS WORKING OR PLANNING OUTDOOR ACTIVITIES THIS WEEK NEED TO PREPARE FOR THE HEAT ACCORDINGLY. AVOID PROLONGED WORK IN THE SUN…OR IN POORLY VENTILATED AREAS. ALSO…KEEP PLENTY OF LIQUIDS ON HAND AND TRY TO STAY IN AN AIR CONDITIONED ENVIRONMENT IF POSSIBLE. WEAR LIGHT-COLORED LOOSE-FITTED CLOTHING. REMEMBER TO CHECK ON THE ELDERLY.