Posted By RichC on September 28, 2010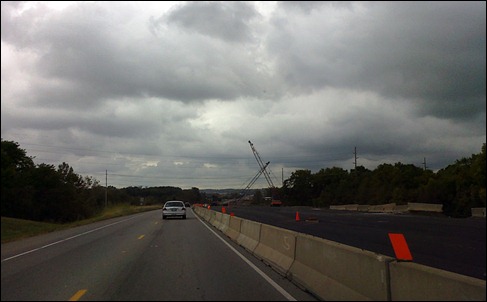 So far I'm not convinced drivers are big fans of the new complex intersections being constructed on many of today roads and highways – referred to as Superstreets. The handful of completed projects that I've traveled on recently seem overly complex and tailored to create accidents. A couple of examples that come to mind would be the new intersection at Monroe Ohio's I-75/Route 63 and new junction at Austin Pike and Route 741 near Dayton-Wright Brothers Airport (MGY) in Springboro. If you've driven on them, imagine navigating for the first time on a dark, rainy night with headlights glaring in every direction – and an out of date GPS to mix things up even more.
Today while in Fairfield Ohio the Route 4 Bypass was under full construction. The  clearing for all phase of the widening project have added significant width to the highway. When checking as to why so large, the comment I heard was that it was going to be a 'Superstreet' project requiring added width. Is it really going to make traffic better?
Try following the illustrations, maps and video clips on the City of Fairfield's website, or just look at a video for one of the junctions below — Tylersville/Rt4 Bypass junction video.