Posted By RichC on November 10, 2010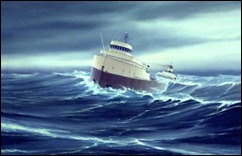 My son sent me a video clip to reminded me that 35 years ago today was the day the iron ore freighter SS Edmund Fitzgerald sank with all 29 'souls onboard' in Lake Superior. Thanks Taylor. (Hmm, what's the origin of 'souls onboard?').
Having spent my childhood growing up on the Great Lakes in a commercial fishing and shipping oriented community not too far from Toledo Ohio, our area was perhaps more deeply impacted by the tragedy than much of the country. Still, I suspect most my age have heard the eery Gordon Lightfoot song, "The Wreck of the Edmund Fitzgerald," and remember the 1975 tragedy while watching the tribute video (below). For me, the most resonating part of the video is the list of names and the familiar Ohio towns that scroll at the end of the video.
On November 10, 1975, while traveling on Lake Superior during a gale, the Fitzgerald sank suddenly in Canadian waters approximately 17 miles (15 nmi; 27 km) from the entrance of Whitefish Bay at a depth of 530 feet (160 m). Although it had reported having some difficulties before the accident, the Fitzgerald sank without sending any distress signals. Its crew of 29 perished in the sinking with no bodies being recovered. When the wreck was found, it was discovered that the Fitzgerald had broken in two.