Posted By RichC on November 8, 2010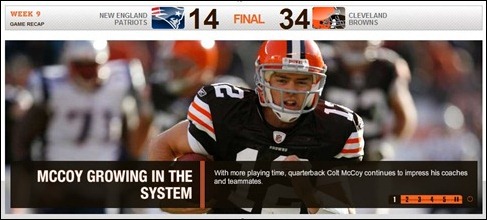 Maybe I'm still in shock and still need to slap myself in order to believe the Cleveland Browns gave the New England Patriots a "shellacking" on Sunday afternoon – CLE 34, NE 14. It was a great game to have enjoyed watching with my daughter, a Browns fan now that she has spent 17 of her 24 years in northeastern Ohio. Of course our support is far from the truly dedicated fans …
CLEVELAND (AP) — An Ohio man won over the woman he loves at Cleveland Browns Stadium before the team won a big victory over New England.

Browns fan Phil Hogan of Cuyahoga Falls dropped to one knee Sunday and proposed to his girlfriend while they were tailgating in a parking lot with friends.

WEWS-TV reports the two met four years ago while tailgating at a Browns game.

Hogan presented not only a ring as he popped the question but also a Browns jersey with his last name on the back. She said yes and immediately suited up in the "Hogan" jersey.

The Browns beat the Patriots 34-14.