Posted By RichC on April 20, 2011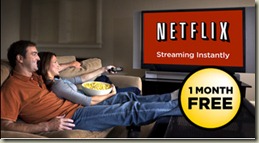 Let me know if you are interested in movies, documentaries and TV programs from Netflix and I'll forward the first ten names for ONE month of FREE … so as long as you are not currently a Netflix member.
Netflix's offers a decent mail delivery program and very good streaming over the Internet service (in my opinion).
Usually the promo is for 2 weeks free (previous post), but the one month promotion is running again – send me an email.
Info from NetFlix:
Offer expires 6/15/2011. One month free offer is available to new members of the Netflix service. Internet access and valid payment method required to redeem offer. Netflix will begin to bill your payment method for the Netflix plan selected at sign-up at the completion of the free trial unless you cancel prior to the end of the free trial. Your Netflix membership is a month-to-month subscription that begins at sign-up. You can cancel at any time. No refunds or credits for partial monthly subscription periods. A computer or other device that streams from Netflix (manufactured and sold separately) and broadband Internet connection are required to watch instantly. Not all DVD titles are available to watch instantly. Additional charges apply for DVD and Blu-ray access. For complete terms and conditions, please see our Terms of Use.