Posted By RichC on May 17, 2011
I'm trying to work through my checklist this afternoon on the boat since Brenda is off on her way driving her parent north for the summer. They will soon find out how well my son has been managing the house, feeding pets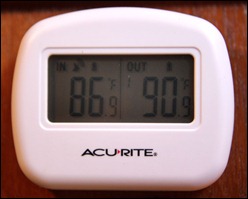 and knocking off the short chores list we have given him after his spring semester and finals ended. I'm not expecting perfection, but I am hoping the homestead is in a condition that won't embarrass Brenda when she arrives with her parents.
With the afternoon sun baking down on me, it is time to take a quick break to check on emails and the few things from work which might need tending … besides, my body needs a little hydration and has not adapted to the heat just yet!
I also promise a catch up post tonight and will add a few personal photos from the week … more for my personal archive than anything worth reading by those other than close friends and family. I suppose that's the advantage of having a "desultory" blog.